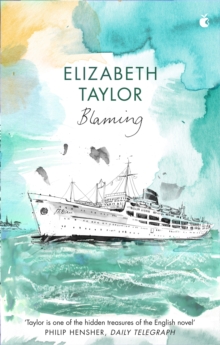 Description
When Amy's husband dies on holiday in Istanbul, she is supported by the kindly but rather slovenly Martha, a young American novelist who lives in London.
Upon their return to England, Amy is ungratefully reluctant to maintain their friendship, but the skeins of their existence seem inextricably linked as grief gives way to resilience and again to tragedy. Reversals of fortune and a compelling cast of characters, including Ernie, ex-sailor turned housekeeper, and Amy's wonderfully precocious granddaughters, add spice to a novel that delights even as it unveils the most uncomfortable human emotions.
Information
Format: Paperback
Pages: 208 pages
Publisher: Little, Brown Book Group
Publication Date: 06/04/2006
ISBN: 9781844083084
Free Home Delivery
on all orders
Pick up orders
from local bookshops
Reviews
Showing 1 - 3 of 3 reviews.
Review by rainpebble
16/06/2015
Not feeling well, I took Blaming to bed with me night before last where I read and dozed, read and dozed for twelve hours whereupon I had completed the book. As of this moment Blaming is my very favorite of Elizabeth Taylor's works. I know this will change with the next one but I was very much taken with this story. This story is about a British couple, Amy and Nick, on vacation touring Istanbul whereupon they come in contact with an American woman, Martha, who seems very needy for English speaking companionship. She leeches onto the them and where they go, she goes as well. As it happens, Nick has an episode and passes away on the trip and Martha is there for Amy all along the way. She gives up the remainder of her holiday to support and be there for Amy whether Amy desires her companionship or not. Turns out she really doesn't but there she is.When they get back to London Martha continues the contact and 'friendship' with Amy. Amy has long since tired of Martha's company but what does one do and stay within the realm of propriety? Why one soldiers on. The story felt so real and all of the characters were so easy to identify with and to understand their personalities and eccentricities. I felt as though I was the one walking into Amy's home or into Martha's bedsitter. I especially loved the character of Ernie, Amy's houseman. I found him to be just a lovely man and want an Ernie of my own."So Martha came and went in Laurel Walk, rather taken for granted than welcomed. On winter afternoons, she and Amy would walk beside the river while the slimy mudbanks became rosy in the setting sun and gulls collected on them, squabbling; or the water ran by , carrying scum, at full tide." Can you see it? Can you feel it? I could."What is it tonight...what are you talking about?" Amy asked, having learned that she must ask questions." Loved that bit.I found the ending to be rather bittersweet and was not expecting it to occur in that manner nor perhaps even with that character. One thing I admire so much in Elizabeth Taylor is that she does not feel the need to tidy up all ends nor to end each storyline. With her books as in life the characters go on to live their lives with the imperfections and blemishes that are on all of our lives.Blaming was a five star read for me and I don't quite know how to pick up another book after this one. I very highly recommend this one.
Review by Tangle99
16/06/2015
Classic Elizabeth Taylor - a beautifully crafted novel describing the interior life of a female character. Very funny in places too, especially the granddaughter Isobel and manservant Ernie. A wonderful treat.
Review by thorold
27/01/2016
Taylor's last novel, published posthumously. Amy, a middle-aged, middle-class woman, Englishly passive and reserved to an almost comical degree, unexpectedly becomes a widow and is drawn into an unlikely and rather unwanted friendship with Martha, a spontaneous, unconventional American. In the hands of most novelists this sort of situation would end happily, with Amy discovering her previously unrealised capacity for enjoying life, but this is Taylor (and not only that, but Taylor in the last months of her life), so it ends badly, and we are left to reflect on blame and guilt and the impossibility of paying our debts to the dead. Depressing, but beautifully written, and full of very perceptive detail, and some really spot-on dialogue.
Also in the Virago Modern Classics series | View all