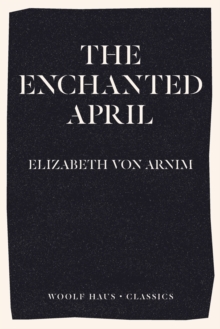 The Enchanted April
Paperback / softback
Description
'The Enchanted April is a pure wish-fulfillment story but there's an acid edge to it ... hints of feminist revolt beneath the sparkly surface.' - Los Angeles Times
'A genuine feeling for color and for beauty.' - The New York Times
An immediate bestseller upon its first publication The Enchanted April set off a craze for tourism to the Italian Riviera that continues today. A charming, slyly comic feminist novel of longing and transformation.
The women at the center of The Enchanted April are alike only in their dissatisfaction with their everyday lives. They find each other - and the castle of their dreams - through a classified ad in a London newspaper one rainy February afternoon. The ladies expect a pleasant holiday, but they don't anticipate that the month they spend in Portofino will reintroduce them to their true natures and reacquaint them with joy. Now, if the same transformation can be worked on their husbands and lovers, the enchantment will be complete.
'A particular kind of witty and well-constructed fiction, a sort of sparkling Euclid, which nobody else can touch.' - Rebecca West
'Elizabeth von Arnim's prose is textured with a dry and sometimes even acerbic wit, and her principle theme is a satirical questioning of the social order, underscored by her feminist tendencies and a skeptical view of the institution of marriage.' - The New York Public Library
'A comedy of miscommunication ... a sun-washed fairytale, delicious in its contrivance ' - The Guardian
About the author
Elizabeth von Arnim was born on 31 August 1866 in Australia. She was cousin to the writer Katherine Mansfield. In 1890 she married her first husband, Count Henning August von Arnim-Schlagenthin, a Prussian aristocrat, with whom she had five children. Elizabeth and her German Garden, published anonymously in 1898, was a barely fictionalised account of Elizabeth's life and the creation of her garden at the family home of Nassenheide in Pomerania, where Hugh Walpole and E. M. Forster were tutors to her children. Its instant success was followed by many more novels, including Vera (1921) and The Enchanted April (1922), and another almost-autobiography, All the Dogs of My Life (1936). She separated from Count von Arnim in 1908, and after his death two years later she built a house in Switzerland, marrying John Francis Stanley Russell in 1916. This marriage also ended in separation in 1919 when Elizabeth moved to America, where she died on 9 February 1941, aged 74.
Information
Format:Paperback / softback
Pages:208 pages
Publisher:Woolf Haus Publishing
Publication Date:26/08/2020
Category:
ISBN:9781922491008
Other Formats
Paperback / softback from £6.55
EPUB from £1.07
PDF from £4.00
Hardback from £10.95
Paperback from £15.09