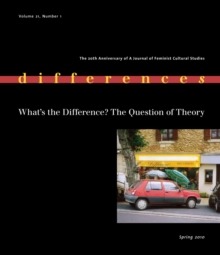 What's the Difference? : The Question of Theory
Paperback / softback
Description
This special anniversary issue of differences considers how critical theory has changed in the twenty years since the journal's inception. differences first appeared in 1989 in the midst of heated debates about the relative merits of post-structural theories of difference and the politics of racial and sexual diversity.
In the ensuing years, the journal has established itself as a critical forum where the problematic of differences is explored in texts ranging from the literary and the visual to the political and social.
In this issue, contributors bring their own critical convictions, personal passions, and sometimes unexpected investments to bear on questions of what counts as theory today and what kinds of work theory still does.
Distinguished contributors from a variety of disciplines and political positions look at the contemporary theoretical landscape.
One contributor argues that the modern university needs to move away from its emphasis on output and to acknowledge instead the pleasures of teaching, learning, and thinking. Another suggests that the confluence of physiology and phantasy in psychoanalyst Melanie Klein's work offers a new way to think about critical theories of embodiment.
Yet another contributor racializes "whiteness," asking whether a male-authored work that contains no black characters of consequence is nevertheless fair game for a black feminist reading.
Contributors: Emily Apter; Elizabeth Castelli; Joan Copjec; Elizabeth Cowie; Simon Critchley; Ann duCille; Lee Edelman; Elizabeth Grosz; Susan Gubar; Jacques Khalip; Ranjana Khanna; Miglena Nikolchina; Avital Ronell; Gayle Salamon; Elizabeth Weed; Elizabeth A.
Wilson
Information
Format: Paperback / softback
Pages: 221 pages, 7 illustrations
Publisher: Duke University Press
Publication Date: 25/08/2010
Category: Social theory
ISBN: 9780822367451
Free Home Delivery
on all orders
Pick up orders
from local bookshops