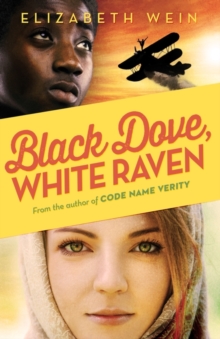 Black Dove, White Raven
Paperback
Description
"Think of the sky!" Delia gave Momma's hands a shake. "Think of the sky in Ethiopia! What will it be like to fly in Africa?"This New York Times bestseller is a story of survival, subterfuge, espionage and identity. Rhoda and Delia are American stunt pilots who perform daring aerobatics to appreciative audiences.
But while the sight of two girls wingwalking - one white, one black - is a welcome novelty in some parts of the USA, it's an anathema in others.
Rhoda and Delia dream of living in a world where neither gender nor ethnicity determines their life.
When Delia is killed in a tragic accident, Rhoda is determined to make that dream come true.
She moves to Ethiopia with her daughter, Em, and Delia's son, Teo. Em and Teo have adapted to scratching a living in a strange land, and feel at home here; but their parents' legacy of flight and the ability to pilot a plane places them in an elite circle of people watched carefully by the Ethiopian emperor, Haile Selassie, who dreams of creating an air force for his fledgling nation.
As Italy prepares for its invasion of Ethiopia, Em and Teo find themselves inextricably entangled in the crisis - and they are called on to help. Elizabeth Wein is a leading voice in young adult historical fiction.
Her novel Rose Under Fire was nominated for the Carnegie Medal and shortlisted for the Costa Award 2014. Fans of The Book Thief and Carmen Reid's Cross My Heart will love this. Look out for Elizabeth's other books Code Name Verity and Rose Under Fire. Elizabeth Wein was born in New York, and grew up in England, Jamaica and Pennsylvania.
She is married with two children and now lives in Perth, Scotland. Elizabeth is a member of the Ninety-Nines, the International Organization of Women Pilots. She was awarded the Scottish Aero Club's Watson Cup for best student pilot in 2003 and it was her love of flying that partly inspired the idea for her bestselling, award-winning novel Code Name Verity.
Information
Format: Paperback
Pages: 496 pages
Publisher: Egmont UK Ltd
Publication Date: 26/02/2015
Category: General
ISBN: 9781405271363
Free Home Delivery
on all orders
Pick up orders
from local bookshops
Reviews
Showing 1 - 1 of 1 reviews.
Review by Sarah_Gruwell
27/01/2016
I think my favorite part of this book was how rich the historical setting and details are. Evidence of how hard the author worked to get things right are seen throughout the entire book. She brings to life a part of the WWII era not often explored, in fiction or otherwise, the Italian invasion of Ethiopia and how WWII impacted this part of the world. She also brings to life a culture that is unique, colorful, and different than any Westerners are used to. She definitely transports her readers in every way, the hallmark of a great historical fiction writer.I also really enjoyed her characters; all are different and exceptional. Steady Teo, intrepid Em, and protective Rhoda all make their mark on the reader's hearts. Even Delia has a strong presence, even though she was dead for most the book. She serves as a motivation and driver for the book after that event due to her strong personality early on. The secondary characters also exhibit their own personality traits and quirks, making them remarkable and remember-able to the reader long after reading.The format of the story was different than I've seen used before, but then, I've grown to expect that from this author. The story is told in a combination of letters, memories, flight logs, and fictional stories written by Teo and Em. I liked how this gave the story a distinctive feel and flow. The only part I wasn't that thrilled with was the fictional story parts. As they were written by children, of course their tone and content will be way different than the flight logs and such. But I found myself thrown out of the story more than once trying to digest these pieces in the middle of the others.Overall, this is a great book looking at a part of WWII that isn't often explored in WWII literature. Great characters and historical details make this an engrossing read and puts the story into the reader's hearts hard. The unique format works in most places but not as well in others. Still definitely a book to look at and recommend to lovers of the genre. Another great example of this author's work as well.