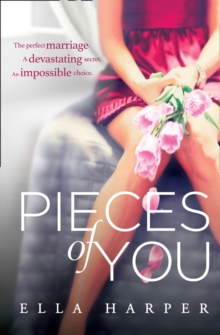 Description
#1 CONTEMPORARY FICTION BESTSELLERAs compelling and powerful as Jojo Moyes and Liane Moriarty, PIECES OF YOU is a heart-rending, but ultimately life-affirming novel about a love tested to its limits.The perfect marriage.A devastating secret. An impossible choice.Lucy was always sure of one thing - her future with husband and soulmate Luke.
But after eight long, heartbreaking years trying to have a baby, that future is crumbling before her eyes.When a terrible accident puts Luke into a coma, Lucy is forced to reassess everything she thought she wanted.Then Stella arrives.
A woman Lucy's never met, but with a secret that will change her world forever . . .
Information
Format: Paperback
Pages: 432 pages
Publisher: HarperCollins Publishers
Publication Date: 25/09/2014
ISBN: 9780007581108
Free Home Delivery
on all orders
Pick up orders
from local bookshops
Reviews
Showing 1 - 2 of 2 reviews.
Review by RMBBLynnie
27/08/2015
Pieces of You by Ella Harper was the emotional story of how an entire family deals with a tragedy and a scandal. Lucy has the ideal relationship with her husband Luke, except their inability to have children. There have been close calls, but each attempt has ended in heartbreak. To add to the suffering, Luke is severely injured, putting him in a coma. During this time, a scandalous secret is revealed, throwing Lucy's already teetering life in to a tailspin.I wanted so badly for the secret not to be true. I was rooting for Stella to be a conniving liar, so I was disappointed when the truth was revealed. Pieces of You had a good plot and pulled me in, leaving me wanting to know what was going to happen next. The characters were believable and their feelings were nearly palpable.Would I recommend this book? I'm not sure. While I thought the plot was strong, I was not a fan of all the different POVs. I understand their importance, being able to see the toll the accident is having on everyone, but it was too much for me. I think the story would have been just as engaging without seeing what Luke's family was going through. As always though, to each his/her own. Never base your judgement on what I say, for I am just a normal gal.
Review by JudithDCollins
16/06/2015
A special thank you to Harper Collins UK, Avon and NetGalley for a complimentary reading copy in exchange for an honest review.

Ella Harper's bittersweet debut contemporary novel, PIECES OF YOU, is a powerful, and emotional tale involving morality and secrets.

Set in England, Lucy and her husband, Luke have a dream of building a family and a home of their own. Unfortunately Lucy gets discouraged after multiple miscarriages, failed pregnancies, and eight long years of trying with no luck having a baby. She is obsessed with being a mother and continues to wish and hope and question, the what ifs?

When more tragedy occurs, Lucy begins to think about her priorities. When a woman arrives with a secret which will further complicate her life, she is faced with more choices, and her love is love is tested, time and time again.

A heartbreaking novel, written with sensitivity, clarity, and raw emotion with a bittersweet gift for one woman who longs to be a wife and mother. Told from different POV's of Luke and Lucy, family members, and friends, some offering more support than others.

A novel of relationships, marriage, family drama, tragedy, betrayal, and choices. Every character in the novel has something to hide and each have repercussions.

PIECES OF YOU would make an ideal book for book clubs and groups with some thought-provoking questions, as how different things would be if the characters had chosen to tell the truth.

A compelling and absorbing, debut novel, of flawed characters, inspired by personal loss and fertility issues suffered by the author's friends, making it a unique and special novel.

Fans of Diane Chamberlain, Lisa Jewell, Sarah Rayner, Jojo Moyes, and Liane Moriarty will enjoy Harper's style – An author to follow!