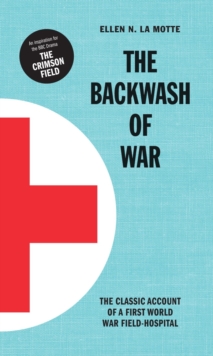 The Backwash of War : Inspired the BBC Dramatization 'the Crimson Field'
Hardback
Description
'War, superb as it is, is not necessarily a filtering process, by which men and nations may be purified.
Well, there are many people to write you of the noble side, the heroic side, the exalted side.
I must write you of what I have seen, the other side, the backwash.' Ellen La Motte, Volunteer Nurse, 4 May 1916 The 'backwash' of Ellen La Motte's controversial book are the dirty, smelly, lice and disease ridden bodies of wounded French soldiers brought into her field hospital, ten kilometres behind the Western Front of the First World War.
They compose the 'human wreckage' of highly organised and industrialised warfare.
Arranged into 14 vignettes, The Backwash of War paints a picture of that conflict which seems so familiar to modern readers with nearly a century of writing about it to draw on.
Yet, even with the passage of time, Ellen La Motte's first hand observations and comments, sometimes cynical, sometimes poignant, retain a freshness and continue to make for compelling reading.
Her graphic and highly vivid studies of how modern weapons of war can truly wreck the human body and mind remain a potent reminder of the true costs of conflict. No wonder the American government banned The Backwash of War in 1918.
Information
Format: Hardback
Pages: 200 pages
Publisher: Bloomsbury Publishing PLC
Publication Date: 03/04/2014
Category: Memoirs
ISBN: 9781844862580
Free Home Delivery
on all orders
Pick up orders
from local bookshops
Reviews
Showing 1 - 2 of 2 reviews.
Review by ladycato
16/06/2015
I was provided a gratis ebook copy of this book through NetGalley.This 200-page book packs a powerful punch. It's said that any book that's truly about war is anti-war, and that's the case here. La Motte never judges the politics behind the Great War (the greatest open criticism she offers is in one section where she scoffs at the men who show off pictures of their wives and sniffle at how they miss her, then use convenient Belgian prostitutes), but she paints a visceral image of the consequences. The forward of the book says that the original publication sold well in America in 1916, but after the country entered the war, the government quietly banned its publication. That doesn't come as a huge surprise to me. The book is extremely graphic even by modern standards.These are the two opening sentences in the first story:<i>When he could stand it no longer, he fired a revolver up through the roof of his mouth, but he made a mess of it. The ball tore out his left eye, and then lodged somewhere under his skull, so they bundled him into an ambulance and carried him, cursing and screaming, to the nearest field hospital.</i>In particular, La Motte isn't shy about describing the conflicting stenches in the ward. I had to Google the term "anal fistula"--good times, there. As a writer who loves researching medical subjects, this book is gold. I will likely buy a print copy so I can easily bookmark sections. I can compare it to <i>A Surgeon in Khaki</i> by Arthur Anderson Martin, a WWI memoir of a doctor who died in duty soon after his book's publication; Martin is far more gentlemanly in his ward descriptions, instead going into detail about the different damage offered by varying types of bullets, and a constant frustration at Britain's lack of preparedness for the war. La Motte as a female and American nurse is much deeper into the psychology of the ward--she offered true vignettes, rather than stories. Both are excellent books, and the writers bring very different viewpoints to the same horrible place.There are many books and reprints on World War I being released right now at this centennial of the war's begin. These chronicles are invaluable. They offer an important look at the past, but also show how little has changed.
Review by ElizaJane
16/06/2015
AUG 5 - Opens with an introduction by the publisher setting up a background on the author and the circumstances under which the book was written. Is then followed by the author's introduction to the 1934 edition which discusses the books suppression during the war years. Then includes the original 1916 author introduction. This is an interesting first hand account of the WWI French front from a field nurse's point of view. It is a short book and makes fast reading with each chapter being a vignette of a different patient and the medical case he represents. Ms. Motte is very candid in her discussions of the wounded and the treatment making the book probably graphic for its time, though not so much for the modern day reader. While I found the book interesting as a contemporary piece of history from the war, I didn't connect with the author's voice at all. She is quite stand-offish and never really gives a personality or emotion to her storytelling. Oddly enough, we never get to know the author as she never refers to herself when telling her stories. She refers to "the nurse" or "the Directrice", which I came to conclude was her in the third person. A couple of times she does speak of herself as "I" but this is only during two passages in which she goes on a personal discourse of her opinion of war, and yet these are also removed from any emotion as they are written sarcastically. She speaks in a condescending tone of how war, the bureaucracy, etc. must be, is perfect, is right, and yet it fair oozes with sarcasm showing her true meaning and thoughts but missing the mark on connecting with the reader's sentiments. In my opinion, these passages could well have been the reason the book was "banned" in the latter years of the war, due to there anti-propaganda message. I've read a lot of first-hand accounts of war and perhaps it has conditioned me a bit, but I am more inclined to think that this author, while showing a fair enough account of her experiences, was just not a good enough writer to get any emotion across to the reader. There are much more well-written accounts that are also moving and poignant, neither of which I find "Backwash" to be.
Also by Ellen N. La Motte