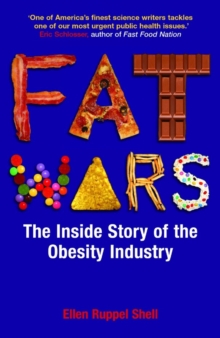 Description
We are facing a gathering health crisis of epic proportions.
The crisis is obesity and the diseases linked to it - hypertension, diabetes, cancer and heart disease.
While multinational drug companies race to find a cure, the problem only worsens, with experts declaring thatthe UK is the second most obese nation on the planet and that 31,000 death a year in Britain are obesity-related.In a rare blend of cutting-edge science, history and personal stories, Shell builds a compelling narrative culminating in a thought-provoking - and radical - call to arms.
This is the definitive account of how the western world got fat - and what we can do about it.'A fascinating book...
Shell has a droll manner and narrative gift that transforms the most unpromising chapters of obesity R&D into observant little dramas...
An illuminating history of overweight' Catherine Bennett, Guardian'A real steel magnolia of a book.
A political fist clenched inside a scientific glove.
Charmingly written with plenty of human interest and colour, its underlying message is nonetheless clear and radical.' Jerome Burne, Financial Times
Information
Format: Paperback
Pages: 304 pages
Publisher: Atlantic Books
Publication Date: 13/01/2004
Category: Popular medicine & health
ISBN: 9781843541424
Free Home Delivery
on all orders
Pick up orders
from local bookshops
Reviews
Showing 1 - 2 of 2 reviews.
Review by mrtall
16/06/2015
A solid overview of current research on obesity. Shell gets a bit shrill, however, when she starts suggesting ways the government should be controlling our lives to keep us thin.
Review by VegAnne
16/06/2015
Easy to read, covers the science of obesity, medical research and drug companies, the food industry. A couple of mistakes (mixing up Hertfordshire and Herefordshire) shook my confidence in the book as a whole. But not by much. She argues that 'the obesity pandemic is less a matter of individual differences than of societal pressure, and of the institutions that impose them. We can and should resist." p 235. The message I am taking from this book is be wary of where you get your information from, ask who is making money out of your food and exercise choices, and decide what is important to you - but don't guilt trip your self about your less than ideal choices, get a sense of proportion. Easier said that done but it is enough to motivate this obese reader to continue on my journey towards health with more care for where I put my money. Glad I read it.