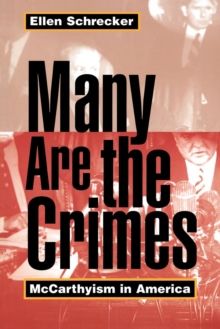 Many Are the Crimes : McCarthyism in America
Paperback
Description
The McCarthy era was a bad time for freedom in America.
Encompassing far more than the brief career of Senator Joseph McCarthy, it was the most widespread episode of political repression in the history of the United States.
In the name of National Security, most Americans--liberal and conservative alike--supported the anti-Communist crusade that ruined so many careers, marriages, and even lives.
Now Ellen Schrecker gives us the first complete post-Cold War account of McCarthyism.
Many Are the Crimes is a frightening history of an era that still resonates with us today.
Information
Format: Paperback
Pages: 608 pages
Publisher: Princeton University Press
Publication Date: 09/08/1999
Category: History of the Americas
ISBN: 9780691048703
Free Home Delivery
on all orders
Pick up orders
from local bookshops
Reviews
Showing 1 - 2 of 2 reviews.
Review by Scapegoats
16/06/2015
McCarthyism is often seen as an aberration in American society. It was a brief moment when hysteria and fear overcame the American ideal of fairness and due process. Ellen Schrecker works to overturn that idea by looking at McCarthyism as a phenomenon over the course of the Cold War. Schrecker, however, does not look at the causes of McCarthyism so much as the effects in personal terms. Her goal is to demonstrate how state oppression has a human and societal cost. She does not paint American Communists as saints. She points out that many collaborated with the USSR and others lied about their affiliations. Nevertheless, thousands were driven from their professions and some ended in jail based on paranoid accusations. Even people who were eventually exonerated suffered such trauma that they sometimes never recovered.Schrecker uses a great deal of case studies and tends to use McCarthyism as a trope for general repression in society. She emphasizes the human cost while avoiding looks at the larger causes. She has opened the door for research with a more sociological approach, although ten years later, no major work comes to mind that has built on her work.
Review by msbosh
16/06/2015
The McCarthy era was a tragic chapter in American history. Schrecker's book is one of the best I've read on this period. She reminds us that hundreds, maybe thousands, of lives were shattered by unfair or disingenuous accusations. Most affected were academics, union leaders, Hollywood writers, directors, and actors, and government workers. Many of them were chastised for trying to live their political ideals 20 years before, when the economy was in ruins and people were looking for more equitable solutions to poverty, not to mention racism and unfair labor practices. Communism, along with socialism and anarchism, was seen for a brief period of time by some as offering alternatives to what was then a very broken system. There was never any threat to the American way of life, despite what Joe McCarthy and others said. As Schrecker points out, many of the loudest accusers knew this. Their real motive was breaking up union activity, protecting corporate power, and undermining many of the successes of the New Deal. In large part, they succeeded. Worse still, and beyond all the lives and families it destroyed, McCarthyism had lasting negative effects on politics and culture that still hurt us. It destroyed the left. The damage done to the labor movement has never been recovered. McCarthyism hurt America's international relations by narrowing foreign policy, and thus intensifying the cold war. As Schrecker puts it, "The anticommunist purges wiped out the means through which it was possible to offer an alternative vision of the world."
Also by Ellen Schrecker