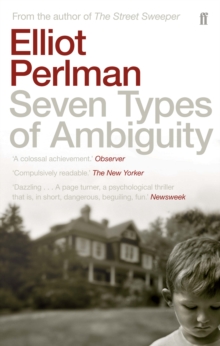 Seven Types of Ambiguity
Paperback
Description
A novel of obsessive love in an age of obsessive materialism, Seven Types of Ambiguity is Elliot Perlman's stunning follow-up to his highly acclaimed debut novel Three Dollars.
Following years of unrequited love, an out-of-work schoolteacher decides to take matters into his own hands, kidnapping his beloved's young son and triggering a chain of events no one could have anticipated.
Information
Format: Paperback
Pages: 624 pages
Publisher: Faber & Faber
Publication Date: 16/06/2005
ISBN: 9780571207220
Free Home Delivery
on all orders
Pick up orders
from local bookshops
Reviews
Showing 1 - 2 of 2 reviews.
Review by sainsborough
16/06/2015
Before I begin, let me say that if it's possible to read a book badly, that's what I did. It took me months to read the first third of the book and I would be the first to admit that this would have affected my impression of it. However, it's also possible that the shortcomings of the book influenced how I read it.Although there is no doubt that it is the product of a formidable intelligence, it is flawed. For all the skilled dissection of contemporary human dilemma, this transpires in a bland landscape with no atmosphere - there are no birds twittering, there is no water lapping at the river bank and there are no colours in the sky. There is no humour. All the voices are Elliot Perlman's - I've never met any women who think like his female characters. The interactions are like a tabloid article about some inner city drama, fleshed out by a journalist with uncommon powers of 'acuity', but for all the sophistication, this doesn't lift the dreariness.At times, the reading felt like being forced to listen to an over-analytical, verbose and self-obsessed acquaintance. I didn't warm to the book. It has my respect but not my affection. Clever stuff, but not my thing.
Review by lesleynicol
16/06/2015
I was about to write a review saying how much I enjoyed this book and then I read the review below by Elmoelle 09 Aug 2013. A terrific review which really says everything I would have said, so please read it. All that I can add is that we see things from our own point of view but walk awhile in someone-else's shoes and you acquire a completely different viewpoint.