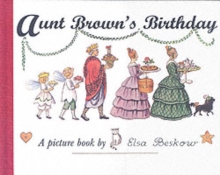 Aunt Brown's Birthday
Hardback
Description
-- In the bestselling Peter and Lotta series -- From one of Scandinavia's most-loved children's authors Aunt Green and Aunt Lavender want to buy Aunt Brown a new hat and lace collar for her birthday, to match her dress.
But how can they borrow her dress without her finding out about the surprise?
Information
Format: Hardback
Pages: 32 pages, colour illustrations
Publisher: Floris Books
Publication Date: 11/08/2003
Category: Picture books
ISBN: 9780863153884
Free Home Delivery
on all orders
Pick up orders
from local bookshops
Reviews
Showing 1 - 1 of 1 reviews.
Review by AbigailAdams26
16/06/2015
The second of five picture-books devoted to the adventures of Peter and Lotta - the first was <u>Aunt Green, Aunt Brown and Aunt Lavender</u>, and the subsequent three <u>Peter and Lotta's Adventure</u>, <u>Uncle Blue's New Boat</u>, and <u>Peter and Lotta's Christmas</u> - this entertaining romp of a tale was first published in Sweden in 1925 as <u>Tant Bruns Födelsedag</u>. As the title suggests, it concerns Aunt Brown's birthday, which all of her family prepares for in various ways. Uncle Blue, who is Peter and Lotta's tutor, suggests that he and the children dress up as Spring, Summer and Autumn, and recite poetry for the occasion. Aunt Green and Aunt Lavender decide to give her a hat and a necklace, respectively, and there the trouble begins. For to do this they need to borrow Aunt Brown's good dress, in order to match their gifts. When Aunt Brown goes to bed with a cold, it seems the ideal opportunity, but leads to a series of comical misunderstandings, culminating in Aunts Green and Lavender being mistaken for burglars...I enjoyed <u>Aunt Brown's Birthday</u> immensely, finding in it that same sense of humour which makes the other Peter and Lotta adventures so entertaining, as well as the beautiful artwork for which Elsa Beskow is so justly celebrated. I appreciated Uncle Blue's attitude as an educator - strict and indulgent by turn, he makes sure the children do their work properly, but also takes the trouble to make lessons fun, and allows them time to play. The scene in which he joins them in enacting a mock battle was particularly amusing, as they are interrupted by the entrance of the parson! I also appreciated the amusing situations into which Beskow continues to insert her seemingly prim and proper maiden aunts, and thought the scene in which the magistrate and postmaster pounce on Aunt Lavender, while Uncle Blue and the children go after Aunt Green with a trip-wire (ha!) was hilarious. The illustrations are just lovely, with full colour paintings on the right side of each two-page spread, and black and white silhouette illustrations on the left, together with the text. The scene in which Peter and Lotta play outside in the snow with Uncle Blue was particularly beautiful, I thought, although all the paintings were a pleasure to look at. All in all, a worthy follow-up to <u>Aunt Green, Aunt Brown and Aunt Lavender</u>. Having read two of the later stories, I'm happy to have finally tracked down these earlier adventures!