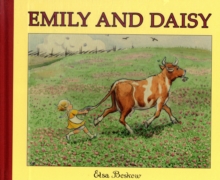 Description
Emily is a helpful little girl, so when her mummy is worried that Daisy the cow will escape into the clover field through a hole in the fence, she offers to go and look after Daisy for the day.
On the way, she meets a big dog, a boastful boy and an old man with a sack.
But when she gets to the meadow, she realises she needs help with Daisy, and to mend the fence.
Who can she turn to? This is a delightful springtime picture book from Elsa Beskow.
Young children will enjoy following Emily through her day as unexpectedly good things keep coming her way.
Information
Format: Hardback
Pages: 28 pages, colour illustrations
Publisher: Floris Books
Publication Date: 01/01/2009
Category: Picture storybooks
ISBN: 9780863156496
Free Home Delivery
on all orders
Pick up orders
from local bookshops
Reviews
Showing 1 - 1 of 1 reviews.
Review by AbigailAdams26
16/06/2015
When Emily's mother observes that Daisy the cow is in danger of getting through a hole in the fence and making herself sick by gorging on clover, the young Swedish girl sets out to take care of the problem, meeting a dog, a boy and a man on her walk to the field. Inadvertently prompting Daisy to escape, Emily chases along behind the runaway cow (as seen on the cover), before being aided in her recovery by the friendly dog she has just met. Once returned to their rightful field, Emily is able to repair the hole in the fence with the help of the local elves, who provide delicious berries in exchange for some of Daisy's milk.Originally published in 1941 as <u>Duktiga Annika</u>, this Swedish picture-book is half farm-adventure, half fairy-tale. Somehow I wasn't expecting that second half, thinking that the story would run more along the lines of the hero/heroine who meets three people/creatures who help her later - a classic folktale narrative, if ever there was one - rather than veer off into <u>Children of the Forest</u> territory. I'm not sure that the story in <u>Emily and Daisy</u> really works - the elves felt somehow inserted into a narrative where they didn't quite belong - although I appreciated the fact that Emily has the freedom to march off on her own, despite being very young, and that her mother is apparently unconcerned that she intends to handle the situation with Daisy herself. As is always the case with Elsa Beskow's books, the artwork here was lovely, with full-colour paintings on the right-hand side of each two-page spread, and text on the left. I particularly liked the scenes with Emily and Daisy together - when Daisy is investigating Emily's sand-castles, when Emily is chasing after Daisy, etc. - and the use of colour throughout. Recommended to fans of Beskow, or to readers looking for stories featuring independent young girls.