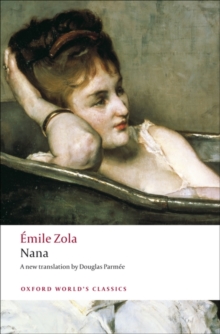 Description
Nana opens in 1867, the year of the World Fair, when Paris, thronged by a cosmopolitan elite, was la Ville Lumiere, a perfect victim for Zola's scathing denunciation of hypocrisy and fin-de-siecle moral corruption.
The fate of Nana, the Helen of Troy of the Second Empire, and daughter of the laundress in L'Assommoir, reduced Flaubert to almost inarticulate gasps of admiration: 'Chapter 14, unsurpassable! ...Yes! ...Christ Almighty! ...Incomparable ...Straight out of Babylon!' Boulevard society is presented with painstaking attention to detail, and Zola's documentation of the contemporary theatrical scene comes directly from his own experience - it was his own failure as a playwright which sent him back to novel-writing and Nana itself.
This new translation is an accurate and stylish rendering of Zola's original, which was first published in 1880.
ABOUT THE SERIES: For over 100 years Oxford World's Classics has made available the widest range of literature from around the globe. Each affordable volume reflects Oxford's commitment to scholarship, providing the most accurate text plus a wealth of other valuable features, including expert introductions by leading authorities, helpful notes to clarify the text, up-to-date bibliographies for further study, and much more.
Information
Format: Paperback
Pages: 464 pages
Publisher: Oxford University Press
Publication Date: 10/01/2009
Category: Classic fiction (pre c 1945)
ISBN: 9780199538690
Other Formats
Paperback from £3.99
Hardback from £14.35
Paperback / softback from £8.99
Free Home Delivery
on all orders
Pick up orders
from local bookshops
Reviews
Showing 1 - 5 of 5 reviews.
Review by Clara53
16/06/2015
A word on the importance of good translation. I read this book in two translations. First half - by an unknown translator, as there was no title page in this old book that I had bought a while ago at a library sale, there was just a year written in pencil by the owner (1953), the pages were very yellow, so it might even date earlier than that. The translation was not very good at all, and to prove it, as I was in the middle of the book, I borrowed a newer library copy to finish reading it in another translation, and oh, what a difference! (This one was translated by George Holden). The reading became so much more enjoyable. But the fact that I didn't give up on the book while reading the first half in really poor translation, certainly shows in favor of the author.I won't presume to aspire to give an adequate review on this classic. Zola is, doubtless, one of the great masters of literature. As to the plot, only one word comes to mind: ruin. It obviously goes beyond the carefree world of Parisian courtesans; it's dramatic, self-induced ruin as represented by the protagonist and prompted by society of that time.
Review by mynovelthoughts
16/06/2015
First published in 1880, Nana is a novel about a woman of low birth (Nana) who uses her sexuality to gain fortune. The novel opens with a play, where Nana (a prostitute) plays Venus, and though she is a poor actress, her beauty and charm (she is nude in scenes) captivate the men in the audience. Soon, she no longer needs to "work the streets"; rich men are lining up to be with her. As Nana rises, her capacity to destroy lives grows and soon she leaves shattered people in her wake.I enjoyed the beginning and ending of Nana, but I found myself growing bored in the middle. There were many times when I wanted to stop reading, but I persevered becuase I had already put so much time into reading it. Nana is a very interesting character, but the men around her (and there were a lot) were difficult to discern from one another - they were all pretty much the same to varying degrees. However, this book is a poignant commentary on society, and sadly still applies today. It speaks of greed, desire and unhappiness - that you can "fill yourself up" and still feel empty.Nana is a novel worth reading, but only if you are prepared for (or want) long descriptions and a slew of characters who aren't necessarily well defined, but necessary to show the breadth of Nana's sexual power.
Review by jwhenderson
16/06/2015
I read this book as part of a "Literary Cityscapes" class at the University of Chicago. The focus of the class was on novels in which Paris was an important factor if not a character. In Nana we have a novel inspired by real life characters, an operetta singer, who are transformed into a steamy story romance and demimondaines as the Second Empire is about to expire. I enjoyed the realistic description of the light opera scene with Zola's detail depiction of the performance of La blonde Vénus, a fictional operetta modelled after Offenbach's La belle Hélène, in which Nana is cast as the lead. Nana unfortunately leads a life not atypical for paramours (see La Traviata) and yet, the realistic portrayal of Parisian society raises this novel above the typical story. Zola again achieves artistic brilliance with his naturalistic novelization of real life.
Review by annbury
16/06/2015
What happens when a woman with overwhelming sex appeal collides with the sex-obsessed male elite of a corrupt society? "Nana", that's what. She is both a creature of mid-19th century Paris, and an embodiment of that glittering, lascivious, and putrefying capital. Zola's novel about a Third Empire courtesan was intended as part of his naturalistic study of French society. The naturalism is brilliant. His description of places (theaters, ballrooms, and particularly bedrooms) is vivid, conveying an almost physical sense of what it was like to be there. He can also convey the beauty of a rural scene, the excitement of a race track, and the menacing sound and feel of fools marching off to war. But his naturalism is a vehicle for a moral stance -- nothing wrong with that at all, it's just important to note how selective his naturalism is. Moreover, in "Nana", his approach veers into an almost mythic exaltation of corruption -- operatic, if you will. Nana starts out as a young actress and courtesan, who matures into the Queen of Paris, the Bitch Goddess, the Whore of Babylon. Through all this, she remains a believable person; not a particularly nice person (though she does have her good points) but a fascinating one. The world she inhabits is as corrupt as she is herself, she's just better at it than anyone else. The subsidiary characters, who all revolve around Nana, are also interesting. A few created more emotional sympathy in me than did Nana herself, perhaps because Nana, for me, has an odd quality of emotional blankness.This is the first Zola I have read, and it makes me want to read more. A brilliant book, and one which does not feel in the least remote.
Review by BALE
16/06/2015
In Nana, Emile Zola portrays the vices of Paris during the Second Empire. Degenerating Parisians are symbolized through Nana. Nana is immorality. Her actions are the actions of all Parisian's. When she dies, it symbolizes the death of Parisian morality. Zola handles this fascinating metaphor brilliantly. Overall, parts of Nana read tediously. As a Naturalist, extreme realism was central to the development of Zola's work. Therefore, details are intentional. The result is a novel that reads like visual imagery. A stream of colors, textures, sounds, and so forth, flow through the readers mind as the story unfolds. Zola takes the reader for a vicarious walk through the streets, homes, restaurants, and bars of 19th century Paris. We experience the theater, grand and illicit parties, and the Grand Prix de Paris. It is both captivating and disturbing. The trick to understanding and enjoying Zola is to not sleep through or be overwhelmed by the details of his writing, but to be absorbed by them. In effect, be a part of them. Only then can one fully appreciate the scope, skill, and creativity of Zola's work.
Also in the Oxford World's Classics series | View all