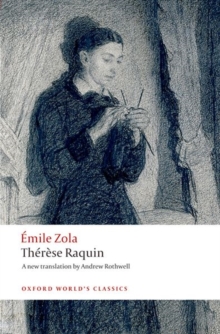 Description
Therese Raquin is a clinically observed, sinister tale of adultery and murder among the lower orders in nineteenth-century Paris.
Zola's dispassionate dissection of the motivations of his characters, mere 'human beasts' who kill in order to satisfy their lust, is much more than an atmospheric Second Empire period-piece.
Many readers were scandalized by an approach to character-drawing which seemed to undermine not only the moral values of a deeply conservative society, but also the whole code of psychological description on which the realist novel was based.
Together with the important 'Preface to the Second Edition' in which Zola defended himself against charges of immorality, Therese Raquin stands as a key early manifesto of the French Naturalist movement, of which Zola was the founding father.
Even today, this novel has lost none of its power to shock.
This new translation is based on the second edition of 1868.
The Introduction situates the novel in the context of Naturalism, medicine, and the scientific ideas of Zola's day.
ABOUT THE SERIES: For over 100 years Oxford World's Classics has made available the widest range of literature from around the globe. Each affordable volume reflects Oxford's commitment to scholarship, providing the most accurate text plus a wealth of other valuable features, including expert introductions by leading authorities, helpful notes to clarify the text, up-to-date bibliographies for further study, and much more.
Information
Format: Paperback
Pages: 256 pages
Publisher: Oxford University Press
Publication Date: 01/12/2009
Category: Classic fiction (pre c 1945)
ISBN: 9780199536856
Other Formats
Paperback from £6.09
Hardback from £14.39
Mixed media product from £12.66
Paperback / softback from £4.45
eAudiobook MP3 from £11.72
EPUB from £8.00
Free Home Delivery
on all orders
Pick up orders
from local bookshops
Reviews
Showing 1 - 1 of 1 reviews.
Review by BayardUS
27/01/2016
It's easy to see why Thérèse Raquin launched Zola's career, with its affecting imagery and dramatic scenes. It's also easy to see that this is early Zola, when the author was still figuring out pacing and how to blend his moralizing and his storytelling together. Overall, this is a good book, but a bit unbalanced.<br/><br/>First off, the good- even in this early book, Zola can set a great scene. He deftly establishes the character of Thérèse as a free spirit boxed in by circumstances and forced to watch her life slip away. When she is surrounded by her husband's friends at the weekly dinner party and imagines herself "buried at the bottom of the tomb, in company with mechanical corpses," you understand and sympathize with her. This is without Zola adding any malicious characters or making Thérèse into a victim: the novel emphasizes that the husband Thérèse hates so much is not evil, just as later on the book emphasizes that Thérèse and Laurent aren't cruel. The characters are what they are, all brutes (a term that Zola overuses throughout this work), but not monsters. The great scenes continue throughout the book- Thérèse and Laurent's early romance, where a stolen kiss is like a "blinding flash of lightning in a leaden sky." Later, the murder of Camille oozes with tension, and after he is gone the nearly-paralyzed Madame Raquin attempting to reveal his murder at a dinner party is a great piece of suspense. The killing of the cat by Laurent and the accompanying visuals are memorable, as is the final scene of the book, not to mention the famous morgue scene. In short, the writing hits many high notes, and, while they devolve a bit in the second half of the book, for the most part the characters avoid falling into tired archetypes. <br/><br/>Unfortunately, the story is not consistently great throughout. Zola has the affair escalate to murder rather quickly, so that I was told of the infatuation between Thérèse and Laurent but didn't have time to feel it. Then, once the murder occurs, Zola has the perpetrators wallow in their guilt for far too long, to the extent that the later half of the book tended to drag at times. There's nothing wrong with depicting the murder as having ruined the relationship, or with exploring the descent into vice and fear of betrayal that haunts both the characters, but the endless mention of Camille's drowned corpse occupying their lives and the sleepless nights of Thérèse and Laurent went on for so long that it dulled the impact of their grief and regret. The emphasis on how terrible the two felt after the murder made it eventually seem as though Zola wasn't so much telling a story as he was moralizing on the sin of murder, even though Zola insterestingly depicts Thérèse and Laurent as having in some ways been reborn through the act of murder (Thérèse with her adventure novels and Laurent with his art). <br/><br/>This is a short novel, so even shaving off twenty pages from the wallowing section and adding twenty more to the affair section could have significantly rebalanced the book and, in my opinion, made it noticeably better. Still, though, because the impressive imagery and individual scenes this story was well done overall. Not as good as Germinal, to be sure, but there's enough good stuff here that I'm excited to read La Bête Humaine, wherein Zola tackles similar subject matter with a more experienced hand. I give this book 3.5 stars, rounding up to 4.
Also in the Oxford World's Classics series | View all