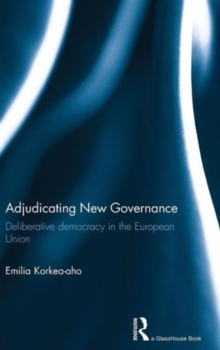 Adjudicating New Governance : Deliberative Democracy in the European Union
Hardback
Description
This book engages with and advances the current debate on new governance by providing a much-needed analysis of its relationship with the courts.
New modes of governance have produced a plethora of instruments and actors at various levels that present a challenge to more traditional forms of command-and-control regulation.
In this respect, it is commonly maintained that new governance generally - and political experimentation more broadly - weakens the power of the courts, producing a legitimacy problem for new forms of governance and, perhaps more fundamentally, for law itself.
Focusing on the European Union, this book offers a new account of the role of the courts in new governance.
Connecting new governance with the conception of deliberative democracy, this book demonstrates how the role of courts has been transformed by the legal and political experimentation currently taking place in the European Union.
Drawing on a series of case studies, it is argued that, although deliberations in governance frameworks provide little by way of hard, binding law, these collaborative frameworks nevertheless condition judicial decision making.
With far-reaching implications for how we understand the justiciability of `soft law', participation rights, the legitimacy of governance measures, and the role of courts beyond the nation-state, this book argues that, far from undermining the power of the courts, governance regimes assist their functioning.
Its analysis will therefore be of considerable interest for lawyers, political scientists and anyone interested in the transformation of the judiciary in the era of new governance.
Information
Format: Hardback
Pages: 256 pages
Publisher: Taylor & Francis Ltd
Publication Date: 11/02/2015
Category: Politics & government
ISBN: 9781138788039
Free Home Delivery
on all orders
Pick up orders
from local bookshops