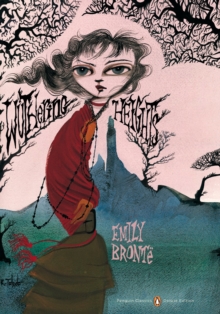 Wuthering Heights : Penguin Classics Deluxe Edition
Paperback
Description
'May you not rest, as long as I am living. You said I killed you - haunt me, then'Lockwood, the new tenant of Thrushcross Grange on the bleak Yorkshire moors, is forced to seek shelter one night at Wuthering Heights, the home of his landlord.
There he discovers the history of the tempestuous events that took place years before: of the intense passion between the foundling Heathcliff and Catherine Earnshaw, and her betrayal of him.
As Heathcliff's bitterness and vengeance is visited upon the next generation, their innocent heirs must struggle to escape the legacy of the past.
Information
Format: Paperback
Pages: 352 pages
Publisher: Penguin Books Ltd
Publication Date: 01/08/2009
Category: Classic fiction (pre c 1945)
ISBN: 9780143105435
Free Home Delivery
on all orders
Pick up orders
from local bookshops
Reviews
Showing 1 - 1 of 1 reviews.
Review by samantha.1020
16/06/2015
From Goodreads:"Wuthering Heights, Emily Bronte's only novel, is one of the pinnacles of 19th century English literature. It's the story of Heathcliff, an orphan who falls in love with a girl above his class, loses her, and devotes the rest of his life to wreaking revenge on her family."My Thoughts:Sorry but I couldn't resist this short and sweet summary. I'm pretty sure that I couldn't describe this book better than that anyways. I've been putting off sharing my thoughts on this book for a few weeks now. Why you might ask??? Because even now I'm still a bit at a loss for words on how I felt about this book. Crazy, huh?From the very beginning when I started reading this book I began to hear very differing opinions on this novel. Readers either seem to love it or hate it and I find myself right in the middle with a definite leaning towards enjoying it (I can't say I loved it). The story started off a bit slow for me. I found my attention wandering and began to wonder if this book was going to be for me or not. But all of a sudden I was caught up in the book and found myself putting the "other" book I was reading to the side in order to read this one. And then I just had to see how the storyline would play out and how everything would end. I'm huge on characters in books and my connection with them as a reader. So it was very surprising for me to realize that I was enjoying reading the book even though I didn't really care for any of the characters. At all. The ending of the book redeemed my connection to the characters just slightly but overall I disliked almost every character in the book. And after closing the book I just sat and mused over my feelings. I still find myself at a loss so I'll leave you with this. I will definitely be rereading this book at some point. (And sorry for the less than coherent thoughts on this one...LOL!)