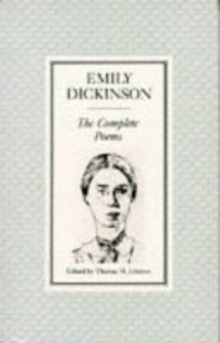 The Complete Poems
Paperback
Description
The Complete Poems of Emily Dickinson is the only one-volume edition containing all Emily Dickinson's poems. The editor, Thomas H. Johnson, has presented the poems in their original texts; and where alternate readings were suggested, he has chosen only those which the poet evidently preferred. His introduction includes a brief explanation of his selection of texts as well as an outline of Emily Dickinson's career.
Information
Format: Paperback
Pages: 784 pages, index
Publisher: Faber & Faber
Publication Date: 03/03/1976
Category: Poetry
ISBN: 9780571108640
Free Home Delivery
on all orders
Pick up orders
from local bookshops
Reviews
Showing 1 - 3 of 3 reviews.
Review by xinyi
16/06/2015
My divine emily dickinson who deems more understanding even today!
Review by BrisMegsie
16/06/2015
There's an Emily Dickinson poem for every kind of day, and every life event.Indispensable.
Review by Luli81
16/06/2015
"I taste a liquor never brewed" by Emily DickinsonI taste a liquor never brewed –From Tankards scooped in Pearl –Not all the Vats upon the RhineYield such an Alcohol!Inebriate of air – am I –And Debauchee of Dew –Reeling – thro' endless summer days –From inns of molten Blue –When "Landlords" turn the drunken BeeOut of the Foxglove's door –When Butterflies – renounce their "drams" –I shall but drink the more!Till Seraphs swing their snowy Hats –And Saints – to windows run –To see the little TipplerLeaning against the – Sun!Inebriated by poetry"I taste a liquor never brewed" a poem by E. DickinsonFor me, this is an hymn to poetry and what is sacred about the act of writing. I read line after line as an invocation to beauty in all its natural forms until I got drunk with it, until I, the reader, was able to reach the heavens and join its inhabitants, Seraphs and Saints, along with Emily, who is writing from there.In this sense, I guess that we, the readers who are able to share beauty through words, are rewarded with the admittance in Dickinson's house of possibility and poetry.The poem read also as an hymn for me because of its musicality and rhyme which I became aware of when I first read the poem out loud. The way the words sang by themselves came as a surprise, and the lack of punctuation, only the dashes and the capital letters to emphasise some words, made the poem more open and infinite.Analysing stanza by stanza, the poem starts with a reference to a certain liquor, which is a strange one, because it was never brewed and because its vastness wouldn't fit into such a huge river as the Rhine. There's also the reference to the ancient age of this liquor, because the Rhine, along with the Danube, appeared as important rivers in historical texts during the Roman Empire.So, going forward, this strange alcohol, makes the " I " in this poem inebriated. I understand this " I " as the writer, in this case, Emily. She speaks of herself being drunk with this strange liquor, a liquor which comes from dew, air and summer days melted in endless blue skies. As I see it, in this second stanza, Emily is describing the beauty of the natural world as overwhelming, she is dizzy, intoxicated with it, and she drinks it in the inns of Nature.And in the third stanza she stresses out this last idea even more, because the more the inhabitants of this natural world, the bee, the foxglove, the butterfly, are denied by foreign "Landlords", emphasised by quotation marks, the more she drinks of this natural liquor, the more inebriated she becomes.As for the interpretation of these Landlords, I take it as if they were the real world, the rationality, Emily's house of prose. The ones who call the imagination back to earth and out of this world of poetry and possibility.The last stanza is for me, the most difficult to analyse. Emily is intoxicated by the beauty of nature and ultimately, of poetry, but she keeps drinking and drinking in it, until the whole act of writing becomes sacred. I understand that she reaches heaven in the Biblical sense, and salvation if I dare say. I'll risk it by saying that this "Tippler" might be Jesus, leaning against this sun, this shinning light, waiting for her to reach out for her destiny, her fate, her mission in life, which is to write, to become a poet.And just another conclusion after rereading the whole thing again.I also think, that the metaphor of liquor and inebriation is not a casual one. If you think of men drinking in inns and socialising in the XIXth century, you might wonder how a reclusive person as Emily might view this kind of activity. Surely she might have disapproved of someone getting drunk, and this poem might also be a criticism to such behaviour and at the same time, she elevates something she finds ugly or negative to an utterly magnificent and celestial act, the act of writing, proving its capacity to transform the dull world of reality into a beautiful fan of possibilities.