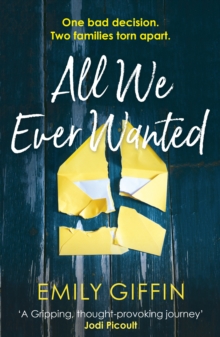 All We Ever Wanted
Paperback / softback
Description
______________________________Could one bad decision tear two families apart?Everyone's seen the compromising photo of Lyla, a scholarship kid in a prestigious private school. Everyone knows that Nina's son, expensively prepared for success since childhood, took the photo. And everyone thinks they know who to blame. As events spiral out of control, Nina and Lyla - both outsiders in the elite social circle they inhabit - are drawn together in an unlikely bond of friendship. Because this photograph is forcing them to question who they really are - and who they are becoming. A New York Times bestseller and a mainstay of reading groups across the UK, this is a gripping novel about second chances, dark family secrets and how it's never too late to be the person you want to be. ______________________________What Emily's readers are saying:'I could not put this book down [...] gorgeously written, and moving' - real 5-star reader review'this truly affected me on so many levels [...] [I] finished this book in one day' - real 5-star reader review'I love Lyla.
Everything about her rings true to today's high school girl' - real 5-star reader review'I love Emily Giffin's books, but this one has to be my favourite [...] I'm sad it's over' - real 5-star reader review'This latest novel by Emily Giffin is quite the page turner!
This was a one day read for me [...] timely and thought provoking' - real 5-star reader review'I absolutely love the characters that Emily creates and her stories are so true-to-life.
A must read!' - real 5-star reader review'Finished in two days!
Really loved it and it kept me hooked throughout' - real 5-star reader review'I read it in two days because I couldn't put it down.
Thought provoking, timely [...] this book is a gem!' - real 5-star reader review'masterfully addresses the influence of social media and exposure on teens, family, and community, class [...] smooth, believable, and never heavy-handed [...] and a perfect book club read' - real 5-star reader review______________________________'Irresistible...
All We Ever Wanted will sink its teeth into you immediately and refuse to let go until the novel's thrilling conclusion' - PopSugar 'If you're looking for a book about romance, single parenthood, race, gender injustice, lost love, or high-class privilege, this novel is for you...
All We Ever Wanted is an emotional journey that forces readers to think' - Associated Press'All We Ever Wanted is a summer read with substance that will seriously make you think' - HelloGiggles'Stellar...
Giffin's plot touches on social class and misogyny while delivering an excellent page-turning story' - Publishers Weekly'Emily Giffin is the ultimate smart-girl beach read goddess' - Well+Good'All We Ever Wanted is the book everyone will be talking about this summer.' - PopSugar
Information
Format:Paperback / softback
Pages:384 pages
Publisher:Cornerstone
Publication Date:04/04/2019
Category:
ISBN:9781787462823