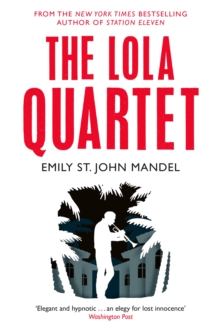 The Lola Quartet
Paperback
Description
How far would you go for someone you love?The Lola Quartet: Jack, Daniel, Sasha and Gavin, four talented musicians at the end of their high school careers.
On the dream-like night of their last concert, Gavin's girlfriend Anna disappears.
Ten years later Gavin sees a photograph of a little girl who looks uncannily like him and who shares Anna's surname, and suddenly he finds himself catapulted back to a secretive past he didn't realize he'd left behind.
But that photo has set off a cascade of dangerous consequences and, as one by one the members of the Lola Quartet are reunited, a terrifying story emerges: of innocent mistakes, of secrecy and of a life lived on the run.
Filled with love, music and thwarted dreams, Emily St.
John Mandel's The Lola Quartet is a thrilling novel about how the errors of the past can threaten the future.
Information
Format: Paperback
Pages: 288 pages
Publisher: Pan Macmillan
Publication Date: 12/03/2015
ISBN: 9781447280071
Free Home Delivery
on all orders
Pick up orders
from local bookshops
Reviews
Showing 1 - 1 of 1 reviews.
Review by Eyejaybee
27/08/2015
Until late January I had never heard of Emily St John Mandel. Now I have read four amazing novels by her and she is firmly established among my favourite authors. 'The Lola Quartet' is her third novel, published in 2012, and is probably the weakest of the four, though that still leaves plenty of scope for it to be exceptionally good.The Lola Quartet of the title is a jazz band formed of pupils in their last year in high school in Sebastiana, Florida, and their final concert is the occasion for event that will reverberate for all of them throughout the next ten years. The novel resonates with a rich melange of themes ranging from teenage love, hope, despair, fear, mental fragility, gambling addiction, substance abuse, drug dealing, music and murder. Mandel adroitly moves between the present and various points during the previous ten years. Beyond their membership of the quartet the four members have relatively little in common and are all set to go their different ways after leaving school. The book initially focuses on Gavin who, after having secured a place at the prestigious Ivy League Columbia University, is now a reporter in New York. Gavin is now living alone after his long term girlfriend Karen had left him a short time ago. A chance assignment leads Gavin to return to Florida for the first time in several years. There he meets his sister Eilo (short for Eileen) who shows him a photograph that she had recently taken of a girl who looks just like she had done when she was that age. Gavin is intrigued and wonders whether the girl might be his daughter, from his girlfriend during his last year in school. This precipitates a series of memories of Gavin's final weeks at school, and also starts to have a deleterious effect on his work. Meanwhile the focus moves to the other former members of the Lola Quartet who have all led rather hectic lives since leaving school.The plotting is tense, gripping and always plausible. Mandel has a great facility for conveying the seedier aspects of life without glorification or condescension - this is how some people live, so get over it, she seems to say, though that does not preclude her characters from viewing aspects of that lifestyle with searing squeamishness. Her dialogue is always vibrant but somehow immensely believable, and she captures all the different voices with a deft ear.
Also by Emily St. John Mandel | View all