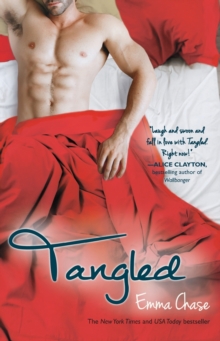 Description
In New York Times bestselling author Emma Chase's sizzling and hilarious debut novel, Drew Evans-gorgeous, arrogant, irreverent, and irresistibly charming-meets his match in new colleague Kate Brooks.
Drew Evans makes multimillion dollar business deals and seduces New York's most beautiful women with just a smile.
So why has he been shuttered in his apartment for seven days, miserable and depressed?
He'll tell you he has the flu. But we all know that's not really true. Katherine Brooks is brilliant, beautiful and ambitious.
When Kate's hired as the new associate at Drew's father's investment banking firm, every aspect of the dashing playboy's life is thrown into a tailspin.
The professional competition she brings is unnerving, his attraction to her is distracting, his failure to entice her into his bed is exasperating.
Tangledis not your mother's romance novel. It is an outrageous, passionate, witty narrative about a man who knows a lot about women...just not as much as he thinks.
As he tells his story, Drew learns that the one thing he never wanted in life, is the only thing he can't live without.
Information
Format: Paperback
Pages: 256 pages
Publisher: Simon & Schuster
Publication Date: 14/01/2014
ISBN: 9781476761770
Other Formats
EPUB from £5.99
eAudiobook MP3 from £15.11
Free Home Delivery
on all orders
Pick up orders
from local bookshops
Reviews
Showing 1 - 4 of 4 reviews.
Review by B.J.O.
16/06/2015
If You Love Alpha, Smart, Witty Males and Even Stronger, Smarter, Wittier Heroines, You Are Going to Love Tangled!This book was hilarious, sexy, witty, suspenseful, and romantic all bundled in one! If you love alpha, arrogant, witty males and even stronger, smarter, wittier heroines, you are going to love Tangled!Drew Evans, a young investment banker at one of NYC's top investment banks, is living the dream by day brokering million dollar deals while living the life partying at NYC's most exclusive night clubs at night never riding the same "rollercoaster" twice. Because "[o]nce is enough, and then the thrill is gone and so is the interest." Until one day he meets a girl who actually turns him down. That was enough to prominently feature her in his mind, after all a man like Drew has never heard the word "no" before, but even worse the next day he learns that she is the new associate at his father's investment banking firm and he has a strict no sex with co-workers rule. Soon matters get even worse when he realizes that Kate Brooks is not just sexy but also smart as she gives him a run for his money in a competition to land a lucrative client. Kate, however, is engaged to her high-school boyfriend who she has been a in a 10-year relationship with and, while she finds Drew strangely attractive and revolting all in one, continues to resist his advances until one day a particularly heated argument between the two leads to a kiss. But is Kate a "rollercoaster" that Drew will actually want to ride more than once and, even if he does, will Kate invite him to do so?Having worked in NYC at one of Wall Street's top law firms in the early part of my career, I can say that Ms. Chase nailed the stereotypical, overconfident, arrogant, playboy I-banker to a T with Drew Evans! I loved that this book was written from Drew's POV! Yes, Drew Evans is a "pig." No doubt that was the intended effect. Ms. Chase's carefully crafted internal dialogue for Drew was hilarious and infuriating all in one, and at least in the beginning of the book, exactly what I would have pictured running through the mind of a young, Wall Street I-banker. But this is a necessary evil, because it makes it even more thrilling when Drew is finally brought to his knees by Kate Brooks. Kudos to Ms. Chase for bringing to life more than one young female associate's (and perhaps even older female partner's) fantasies!Audible Narration: Sebastian York is the perfect voice for Drew Evans. With that deep, raspy voice, he naturally brings to life Drew Evans' commanding and sexy nature. For the most part, the rest of the narration was pretty good too. I think, however, that what would have made this a perfectly narrated book is if a female narrator had been chosen for the female parts. Mr. York's voice is just too deep to ever convincingly sound like a woman. Additionally, his acting style is somewhat flat to portray the female emotions that Kate went through in the book. All that said, Mr. York did do a good job at differentiating Kate's voice from Sebastian's, so the performance and change in characters is easy to follow, and oh those sexy parts get 5+ stars because they were just so steamy!Tangled is a must read for anyone who loves contemporary romances with arrogant, overconfident, alpha ("pig") males and the heroines that bring them to their knees. If you loved Beautiful Disaster, or even some of the recently popular motorcycle club romances (yes, somewhat different style, but I-Bankers like Drew Evans are really just the mainstream "high-class" version of the crude, sexy "pig" bikers that are the heroes of today's motorcycle club subgenre of romance novels : ) ), you should definitely read or listen to Tangled!
Review by lornajarkin
16/06/2015
I don't usually laugh out loud with books....I don't usually read snippets to my husband....I don't always leave a review when I finish a book I like. Well, Tangled changed all of those things!! Ms. Chase did a fabulous job of getting in the man's head and sending us for the journey....Tangled is a fun read, but still had plenty of love and romance. You should definitely pick it up and read it!!
Review by JeracaFite
16/06/2015
I received this free eARC in exchange for my honest review. Huh. This book has AWESOME ratings. I was expecting a masterpiece. But I just didn't...feel it I guess. At first I was really enjoying the book. Reading through Drew's point of view about what men think? I was thinking to myself, YES, this is THE book to read to know how to figure out a man. After awhile, though, I grew bored of Drew's random tangents that weren't relevant to me and I started skimming until he caught up to what he was initially talking about. I really liked Kate. I think we would get along great because we have the same kind of attitude. And I have to give her props for resisting the sex-on-a-stick Drew. That is some talent and restraint. So yeah, I have extremely high hopes for this book but just didn't really enjoy it all that much. There were a few times I laughed out loud but mainly I was waiting for it to end. I was considering getting the rest of the books but I think I'm okay with just reading this one and calling it good. Glad I got to read it, finally, though.
Review by Dawn772
16/06/2015
An interesting first person story told from the male point of view. He was a real player so it was a raw and steamy story that really pulled me in. I liked the competitiveness between hero and heroine as their relationship built. Kate is a new hire in Drew's family banking business and he is strongly attracted to her.<br/>
Also in the The Tangled Series series | View all