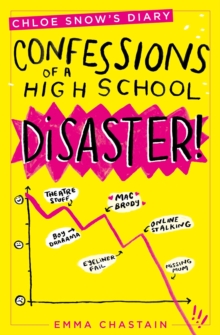 Chloe Snow's Diary: Confessions of a High School Disaster
Paperback / softback
Description
I'm Chloe Snow and my life is kiiiiiind of a DISASTER... On the upside, I got the lead in the musical! On the downside: 1 - I've never been kissed (so so SO embarrassing). 2 - My best friend, Hannah, is driving me insane. 3 - I think I'm in love with Mac Brody, the most popular guy in school, whose girlfriend is so beautiful she doesn't even need eyeliner. 4 - My dad won't stop asking if I'm okay. 5 - Oh, and my mum moved to Mexico to work on her novel.
But it's fine - she'll be back soon. She said so. Mum tells me that everything is a story, so I'm writing down all the horrible things that happen to me in this diary. This is the worst year of my life so far, unless maybe, just maybe, it turns out to be the best... Told in 365 diary entries, one for each day of the most seminal year of Chloe's life so far, this is a fresh take on the classic teen coming-of-age story. "Chloe Snow's Diary goes far beyond the expected awesomeness + angst of a freshman in high school, though it has both of those qualities in spades.
But Chloe Snow, in all her hilarious brilliance, will also break your heart and make you bawl those 'happy to be alive' tears.
Amazing." - Lauren Myracle, New York Times bestselling author of The Infinite Moment of Us "Chloe Snow's deadpan humour and pin-sharp observations had me laughing on every page.
You'll be rooting for her through each fresh disaster.
GO CHLOE!' - Beth Garrod, author of Super Awkward"It's cringy, it's funny,it's just so good!...
A brilliant, funny read from Emma and I can't wait to see what she writes next." The Reader's Corner "I LOVED IT! ... this book is ingeniously funny and every teen girl should read it!" Never Judge a Book by Its Cover "Brilliantly entertaining diary entries from Chloe make this a must-read for teen girls!" Books Monthly "We're totally in love with ChloeSnow - and we know you will be too.
RUN to your nearest bookshop for a copy." Maximum Pop "Filled with humour, heart and larger-than-life characters, Confessions of a High School Disaster will make you smile, cry, and cringe as you are transported back to the moments of your own teenage years!" Delightful Book Reviews
Information
Format: Paperback / softback
Pages: 352 pages
Publisher: Simon & Schuster Ltd
Publication Date: 01/01/2017
Category: General
ISBN: 9781471160462
Free Home Delivery
on all orders
Pick up orders
from local bookshops
Also in the Chloe Snow's Diary series