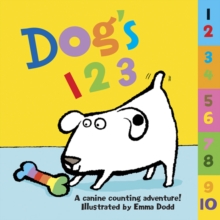 Dog's 123 : A Canine Counting Adventure!
Board book
Description
This is a canine counting adventure! This book helps you to learn all about the numbers 1 to 10 with the help of Dog, who starts off with one spot...but somehow ends up with ten of them!.
It helps you to see the accident-prone animal acquire a green grass stain, a splurt of orange juice, and much more.
It includes bright shades that help to reinforce the ideas and enhance the fun - from red jam to purple pen ink.
Each pair of numerals has its own tab along the side of the book, to show the numbers building up.
It is built to last, with sturdy board pages that will stand up to repeated use.
Dog begins his day with just one black spot on his ear.
But wherever he goes, he runs into different things, all of which leave their mark.
At breakfast time, Dog sits under the table. Splat! A drip of red jam lands on his back. After breakfast, Dog runs outside. His tail dips into a pot of blue paint. Splish! Next, he scampers to the park and rolls on the grass, which leaves a green stain on his side.
Squash! A little boy pats Dog - but his hand is covered in brown chocolate.
Squish! A passing bee drops some yellow pollen on Dog. Swish! A little girl drips pink ice cream on him. Splosh!And so it continues. ..so that by the time he finally arrives home, Dog has ten different spots on his white coat.
Then it's time for a bath! Endearing pictures by the popular illustrator Emma Dodd make this book a wonderful aid to learning that small children will want to return to again and again.
Information
Format: Board book
Pages: 14 pages, illustrations throughout
Publisher: Anness Publishing
Publication Date: 10/02/2016
Category: Early learning: numbers & counting
ISBN: 9781861476982