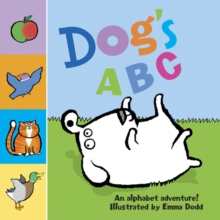 Description
This is an alphabet adventure! This fun story will help young children to learn the alphabet and new words.
This is an apple, a bird and Cleo the cat are encountered by Dog one morning - read on as he spots eggs, a frog, a gate, a hill...and objects and ideas that begin with all the other letters as well.
The letters are shown in a panel on the side of each page, in both upper- and lower-case versions, together with a picture of something that begins with that letter and the word spelled out, to aid learning.
The book is built to last, with sturdy board pages that will stand up to repeated use.
Dog is in the garden when his alphabet adventure begins.
An apple falls on his head. Bump! A bird flies away. Cleo the cat says meow! Dog replies with a friendly woof! The bird lands again and sits on her eggs. Dog plays with Freddie the frog, chasing him over a gate and up a hill.
Buzz! An insect stings Dog's nose, making him jump! He runs into the kitchen on his little legs. A meal will make him feel better! Dog's nose still hurts. An orange fish in a pond says, "Put your nose in the cold water." The ducks quack in agreement.
Then it starts to rain.As the sky turns dark, Dog takes shelter under a tree. Soon, he sees a big red umbrella. His owner Vicky has come to find him...Finally, with a yawn, it is time for bed.
Zzzzzzzz! Endearing pictures by the popular illustrator Emma Dodd make this book a wonderful aid to learning that small children will want to return to again and again.
Information
Format: Board book
Pages: 14 pages, illustrations throughout
Publisher: Anness Publishing
Publication Date: 10/02/2016
ISBN: 9781861476999
Free Home Delivery
on all orders
Pick up orders
from local bookshops