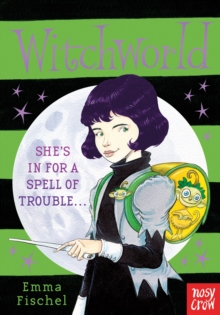 Witchworld
Paperback / softback
Description
The witches of Witchworld have no need for old-fashioned wands or broomsticks, not when they have shiny Spellsticks and super-whizzy Skyriders instead. And no one has a cauldron anymore, just a cupboard full of Potions2Go.
Flo Skritchett lives with her mother, the editor-in-chief of celebrity and Lifestyle magazine, Hocus Pocus, and her witchteen sister.
All is well, until her grandmother flies in to town and warns them that Witchworld is in danger from a Ghoul Attack!
No one believes her - after all, Ghouls died out years ago and she still rides around on a broomstick, for goodness' sake!
But Grandma's right, and soon Flo starts to wonder if modern witchcraft can save them or whether they'll have to look to the Old Ways after all... The first funny, excitingly witchy story in the trilogy for 9+ readers; it's impossible not to fall under its spell, especially with Chris Riddell's bewitching cover and incidental illustration. "A satirical, imaginative fantasy" - Sunday Times
Information
Format:Paperback / softback
Pages:272 pages
Publisher:Nosy Crow Ltd
Publication Date:04/09/2014
Category:
ISBN:9780857634177