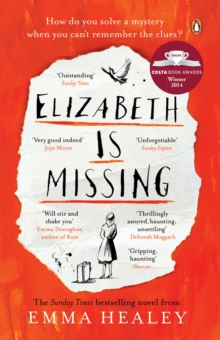 Elizabeth is Missing
Paperback
Description
Sunday Times Top Five Bestseller Elizabeth is Missing is the stunning, smash-hit debut novel from new author Emma HealeyWinner of the Costa First Novel Award 2014Shortlisted for National Book Awards Popular Fiction Book 2014Shortlisted for National Book Awards New Writer of the Year 2014Longlisted for the Dylan Thomas Prize 2014Longlisted for the Baileys Prize for Women's Fiction 2015'A thrillingly assured, haunting and unsettling novel, I read it at a gulp' Deborah Moggach, author of The Best Exotic Marigold Hotel'Elizabeth Is Missing will stir and shake you: the most likeably unreliable of narrators, real mystery at its compassionate core...' Emma Donoghue, author of Room 'Resembling a version of Memento written by Alan Bennett' Daily Telegraph'One of those mythical beasts, the book you cannot put down' Jonathan Coe, author of The Rotters Club'Every bit as compelling as the frenzied hype suggests.
Gripping, haunting' Observer'If you're after a read you can't put down, then look no further' New!Meet Maud.Maud is forgetful.
She makes a cup of tea and doesn't remember to drink it.
She goes to the shops and forgets why she went. Sometimes her home is unrecognizable - or her daughter Helen seems a total stranger.But there's one thing Maud is sure of: her friend Elizabeth is missing.
The note in her pocket tells her so. And no matter who tells her to stop going on about it, to leave it alone, to shut up, Maud will get to the bottom of it.Because somewhere in Maud's damaged mind lies the answer to an unsolved seventy-year-old mystery.
One everyone has forgotten about. Everyone, except Maud . . .
Information
Format: Paperback
Pages: 288 pages
Publisher: Penguin Books Ltd
Publication Date: 01/01/2015
ISBN: 9780241968185
Other Formats
EPUB from £4.99
CD-Audio from £15.45
Free Home Delivery
on all orders
Pick up orders
from local bookshops
Reviews
Showing 1 - 5 of 6 reviews.
Previous | Next
Review by passion4reading
27/08/2015
Maud is an old lady in her eighties who's getting increasingly forgetful; but what she does remember clearly is that her friend Elizabeth is missing, and no one will tell her where she is – Elizabeth's son has even started to give some of her possessions away. As Maud is getting more and more concerned for Elizabeth's welfare, the traumatic events of Maud's childhood become intermingled with present events.This book was a revelation; rarely have I encountered an author who so completely embodied the persona of their character. There is something instantly recognisable in the character of Maud, her daughter and granddaughter to anyone who's ever been in contact with a person with dementia; there is the paradox of Maud's mind, which shows remarkable articulation, eloquence and perception and can reproduce detailed memories from seventy years before, and yet can't remember the mundane, everyday things she did or heard five minutes before; and there is the barely suppressed frustration and impatience shown by Maud's daughter Helen and granddaughter Katy, who love Maud but are clearly at a loss as to how to deal with her and keep her safe. Maud's character is never less than entirely believable, and at the beginning of the book her awareness of her losing control, of her struggle to separate events from the past from events happening in the present cause her to react with anger and frustration, and occasionally with aggression and violence; I felt a real sense of loss as her mind deteriorates and she can't always recognise her loved ones. Because the novel is written from Maud's point of view, the description of events is quite unsentimental and matter of fact, which to me brought home the state of Maud's mind even more. The reader is put through a whole rollercoaster of emotions as they navigate the maze of Maud's mind: the story is unsettling, eye-opening, haunting, gripping, poignant, heartbreaking, insightful and sobering, but also has some moments infused with a humour of the blackest variety. The story kept me hooked and guessing, and it was only about three chapters before the end that all is revealed and the various pieces of the jigsaw puzzle come together to build a picture, and even then it's not all what I expected it to be. It raised awareness of how the mind of a person with dementia might operate and yet also made me feel ashamed as I could recognise myself in the reactions and behaviours of those around Maud.This novel will not appeal to everyone, but I can't recommend it highly enough. Certainly Emma Healey's name will be one to watch, and I'll be very interested to read what she does next.
Review by cygnoir
27/08/2015
This is a beautifully-written and altogether upsetting book. At no point did I feel "good" reading it, but it was important that I read it. The unreliable narrator has memory issues and in a plot that requires her to remember things to find resolution, these issues were only assuaged by the deft hand of the author who refuses to abandon her characters in melodrama or hopelessness. I wish I could say I liked it, but it isn't a likeable book for me. I respected it, and at times was in awe of it, and it will stay with me for a long time.
Review by lilywren
27/08/2015
A great debut novel where the story is being told from the perspective of Maud, a woman in her 80's living with dementia. We follow Maud as she presents her scattered thoughts and post it note reminders in her quest to find her friend Elizabeth. She is convinced Elizabeth is missing, she is doing everything she can do (and remember to do) to find Elizabeth, including persuading those around her that she is indeed missing. Maud's daughter, Helen, is portrayed as the family member trying to help mum but clearly showing the stress and anxiety which can go hand in hand when supporting a loved one with dementia. As someone who has had a close family member diagnosed with the condition, I certainly found parrallels with Maud's behaviour and the close family reactions to it.Elizabeth is Missing isn't a depressing story though. It could easily have been and yes, there are some sad and bitter sweet moments. However, in using Maud as the narrator of the story, we are presented with a character full of humour, strength and tenacity (much to her families angst) especially in trying to complete her self assigned mission of finding Elizabeth. Maud is certainly not presented as a 'victim' here and quite rightly so. A well crafted tale which presents an alternative perspective on dementia and a different take on the detective story genre.
Review by PriscillaM
27/08/2015
This story of elderly Maudie as she struggles with her failing memory, to solve the mystery of her missing friend is both delightfully funny at times and also achingly sad. Maudie's very often confused, by present day events, forgetting what all the little notes she writes to remind herself of thing are for. Her mind often wanders back to her teenage years and the disappearance of her elder sister Sukey. Both her friend Elizabeth's disappearance and also that of her sister's are somehow connected. Maudes' family try to deal with her increasing dementia as best they can, but occasionally things go awry. I really enjoyed the story, loved Maudie and empathised greatly with her daughter, Helen. Well written by Emma Healey,Interestingly from the perspective of very forgetful Maudie.
Review by joebtsflk
27/08/2015
I have not read a piece of fiction which so fails to live up to the hype of reviewers. (I am not referring to Librarything reviewers). Here is a sample...'gripping, fast paced'...'the book you cannot put down'...'a cracking mystery'...and so on. It's a nice idea to have a dementia ridden character as narrator. But it didn't work for me. Certainly the narrator is mostly confused in her story telling, so much so that she confuses the reader. What is the truth...about anything? The narrator's mind is damaged so what is reality? Is the finale what really happened? We don't know.It's only positive for me was the quality of the writing and the characterisation of dementia. But one has to ask how credible is it for someone with dementia to be such a narrator?Makes you think that hype from the right quarters can boost sales.
Also by Emma Healey