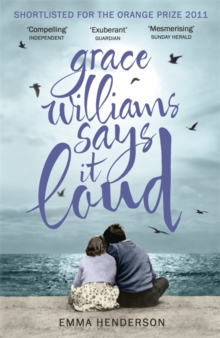 Grace Williams Says It Loud
Paperback
Description
Shortlisted for the Orange Prize for FictionWinner of the McKitterick Prize 2011Runner up, Mind Book of the Year 2011 Shortlisted for the Commonwealth Writers' First Book Award, the Waverton Good Read Award, the Authors Club First Novel Awardthe Wellcome Trust Book PrizeThe doctors said no more could be done and advised Grace's parents to put her away.On her first day at the Briar Mental Institute, Grace, aged eleven, meets Daniel.Debonair Daniel, an epileptic who can type with his feet, sees a different Grace: someone to share secrets and canoodle with, someone to fight for.A deeply affecting, spirit-soaring story of love against the odds.
Information
Format: Paperback
Pages: 336 pages, None
Publisher: Hodder & Stoughton General Division
Publication Date: 01/02/2011
ISBN: 9781444704013
Free Home Delivery
on all orders
Pick up orders
from local bookshops
Reviews
Showing 1 - 5 of 6 reviews.
Previous | Next
Review by souloftherose
16/06/2015
Meet Grace Williams, born with physical disabilities, unable to speak more than a few words and has lost the use of one arm after a bout of polio. At 11, she's sent to The Briar, an institution for those with mental and physical disabilities after her parents realise they're no longer able to look after her at home.Meet Daniel Smith, whom Grace meets on her first day at The Briar hospital. Debonair and dashing, Daniel is an epileptic who has lost both of his arms in a car accident.Could there be a more unlikely love story than that of Grace and Daniel? And yet, it works so well that I fell in love with both Daniel and Grace. Daniel, almost from the moment we first meet him when he bows so low that his hair brushes the tops of his shoes. Grace, as I got to know her over the course of the book.Initially I found the style of writing difficult to follow but after 20 or so pages I'd got into the flow of it. Due to Grace's inability to speak, other characters in the book often assume that she is mentally deficient as well as physically disabled. But as the readers we get to read Grace's story from her own, unique point of view.Although this book contains many descriptions of disturbing incidents in Grace's and Daniel's life which occasionally made the book difficult to read, there is enough beauty and wonder in their story to prevent this from becoming a depressing read.What made this even more moving for me was reading that this story was partly based on Emma Henderson's sister, Claire who spent 35 years institutionalised for similar reasons to Grace, and to whom the book is dedicated.
Review by lit_chick
16/06/2015
Grace Williams is mentally challenged at birth, deformed by polio at aged six, and committed to Briar Mental Institute at age eleven in the late 1950s. On her first day at Briar, Grace meets Daniel Smith, a debonair epileptic who wins her heart with his Parisian French, his stories of the world outside, and his unlikely and uncanny talents of shoe cobbling and piano playing. Theirs becomes a love which will endure beyond the sordid existence that is Briar.The novel is a disturbing and heartbreaking read. Heartbreaking because Henderson's portrayal of Grace, her victories, defeats, and great love are so achingly real. And disturbing because she, and some two thousand other Briar patients, are treated with such shameful disgust and loathing: "Subnormal, deficient, retarded, impaired." (129) Briar's routine consists of ongoing abuse, physical, emotional, and sexual; debilitating medications; and painful, often unnecessary, medical procedures. "Daniel said it wasn't too bad, ECT. But I knew he was lying. his egg-shaped head always appeared longer, and his eyes scrambled like a bust kaleidoscope, after his own occasional shocks. Few of us ever had regular electrics. Increasingly, we were treated with colourful cocktails of pills. The only patients who still received regular ECT were the adult skitters, the lady catatonics and a group of curled, withdrawn, lost-looking men called DPCs. Daniel said they came from abroad, from camps. If they spoke at all, they spoke in a mysterious mix." (127)For all its seriousness, Grace Williams is not without victory. Grace lives on well beyond the closure of Briar in the late 1980s; and by then, thankfully, education has, at least to considerable degree, precipitated humane and compassionate attitudes towards those less fortunate. I think Henderson's achievement in Grace Williams is her ability to educate, to remind, to disturb, and to celebrate.
Review by nocto
16/06/2015
I was a bit dubious about reading this to start with as it sounds all a bit gimmicky, but actually thought it was fabulous. It's narrated by Grace, who is - I forget the exact details - but born with some kind of mental disability and then gets polio aged six which withers an arm and leg - she's considered to be 'ineducable' and at the age of ten is institutionalised by her family. The author has managed to tell the story of someone who could never tell her own story.The story is basically all about her friendship with a boy called Daniel, who has no arms. Though I think the depiction of Grace's family through time is the best bit: watching how her parents and siblings relationships with her change over the years. I thought the relationship between Grace and her younger sister Sarah who was born after she went into the home was very well portrayed. Grace's parents were more or less told to forget about Grace and try again with another baby. It's a sad story really, but full of uplifting happy bits and I'm pleased I read it.
Review by mrstreme
16/06/2015
Grace Williams was born with mental and physical deformities, which were compounded when she was stricken with polio at the age of six. By the time she's 11, her doctors convinced her parents to turn Grace over to a mental institution, and it's there that Grace meets the love of her life, Daniel, who sees through her disabilities. Their story is at the center of Emma Henderson's <em>Grace Williams Says It Loud</em>.Grace proves to be a delightful narrator - cunning, observant and witty. Through her words, we learn how institutions treated their patients during the 1950's. In fact, the scenes that depict the name-calling, condescension and physical abuse were hard to read, even with talented Grace at the helm. These horrific scenes were juxtaposed with Grace and Daniel's friendship and love - a beacon of light in the storm. You could tell the two found solace through each other.While the characters were complex and interesting, I was not as enamored with <em>Grace Williams Says It Loud</em> as many other readers. However, I can't pinpoint why. Somewhere in the middle of this story, it lost steam for me, and I skimmed some of the remaining pages. Not enough action? Tired of the institutionalized treatments? I am not sure. In any case, I still recommend <em>Grace Williams Says It Loud</em> and encourage you to read other reviews to get a feel for the book. Grace deserves a large audience, indeed.
Review by eclecticdodo
16/06/2015
Grace Williams was born with unspecified developmental disabilities and then had polio aged six. We follow her story from a loving home, into an institution, and beyond. She is assumed to be ineducable, her attempts at speech dismissed as echolalia. But Daniel sees beyond the exterior, and so do we. Grace is eloquent and honest, stoical despite the appalling treatment she is subjected to. This is a tragic, often disturbing novel; all the more heartbreaking because you know the experiences described were a reality for countless institutionalised people. And yet there is hope. A new era has dawned where disabled people are treated with dignity and respect, supported to live full lives.Sexually explicit in places.
Also by Emma Henderson