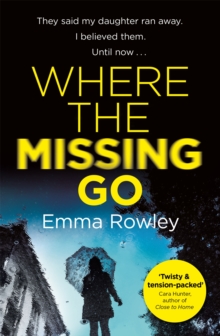 Where the Missing Go
Paperback / softback
Description
'A twisty and tension-packed thriller' - CARA HUNTER, no.1 bestselling author of CLOSE TO HOMEThe most gripping, twisty psychological thriller of 2018 - for fans of IN THE DARK by Cara Hunter, THE RETREAT by Mark Edwards and THREE LITTLE LIES by Laura Marshall.*****************MY NAME IS KATE. I volunteer at a missing persons helpline - young people who have run away from home call me and I pass on messages to their loved ones, no questions asked. I don't get many phone calls, and those I do are usually short and vague, or pranks. But today a girl named Sophie called. I'm supposed to contact her parents to let them know their child is safe. The problem is, Sophie isn't safe. AND SOPHIE IS MY DAUGHTER. *****************'Emma Rowley has created a nightmare scenario which is all too plausible' - RACHEL ABBOTT, author of THE SIXTH WINDOW'A brilliant debut...
Genuinely kept guessing right until the very end' - ELLE CROFT, author of THE GUILTY WIFE'A deliciously dark & emotive debut with an extremely powerful ending' - MEL SHERRATT, author of SHE DID IT'Kept me guessing to the final twist; creepy and addictive.
My perfect type of book!' - ELIZABETH HAYNES, author of INTO THE DARKEST CORNERIf you like Clare Mackintosh, Fiona Barton, Teresa Driscoll, Jenny Blackhurst, Rachel Abbott, Laura Marshall, Joy Ellis, Cara Hunter, Mel Sherratt, Angela Marsons or Lisa Jewell then you will be utterly gripped by this psychological thriller with a massive twist you won't see coming. WHY READERS ARE GIVING WHERE THE MISSING GO *FIVE STARS*:'My favourite book of this year''BRILLIANT''WOW!
WOW!''You simply do not know how this twisting turning tale will turn out''Amazingly gripping''I envy anyone who is yet to read it''Wow!
That was intense.''From the very first page I was gripped''2018 has been full of great reads for me so far, this one is added to that list for sure''A fantastic book written with so much sensitivity''I absolutely loved every twisted page''Heart wrenching''I loved this book''10/10''The pace and prose flowed so clearly and masterfully''It's so well written it was an absolute gift to read''A mother's love is unlike any other and it is perfectly captured within these pages''You will thoroughly love this book''A pure delight to read''I was immediately intrigued with both the title & the description.
The book didn't let me down'*EMMA'S NEW BOOK TELL ME EVERYTHING AVAILABLE TO PRE-ORDER NOW!*
Information
Format: Paperback / softback
Pages: 320 pages
Publisher: Orion Publishing Co
Publication Date: 14/06/2018
Category: Crime & mystery
ISBN: 9781409175773