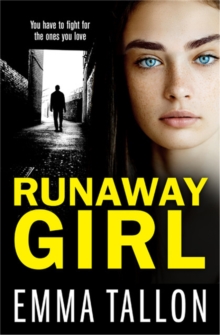 Runaway Girl : A gripping crime thriller that will have you hooked
Paperback / softback
Description
You have to fight for the ones you love. 'An ideal book for fans of Martina Cole, Kimberley Chambers, Mandasue Heller, Jessie Keane and Casey Kelleher' Ginger Book Geek, 5 starsAnna Davis has spent years terrified of her sadistic gangster boyfriend.
Right up until she runs away in the dead of night, she's frightened he will kill her. And she knows he still will, if he ever finds her... As Anna starts her new life in London, she meets two strangers who will change her fortunes forever.
Tanya Smith is a gorgeous stripper with a big heart.
Anna and Tanya quickly become inseparable and open up London's hottest new nightclub together. And East End baron Freddie Tyler is everything Anna's ex-boyfriend was not - he's kind, caring and would do anything to make Anna happy.
Just as Anna begins to see a brighter future for herself, she begins to suspect her past is catching up with her.
She could be about to lose everything - even her life.
But she's a different person now. She's got something to live for and she's not going to give up without a fight.
But are Tanya and Freddie, the only people she trusts to help her, telling Anna the truth about who they really are?
If you love Martina Cole, Kimberley Chambers, Casey Kelleher and Jessie Keane, you'll love Runaway Girl.
This fast-paced, gripping thriller will have you reading well after dark. What readers are saying about Runaway Girl:'I can finally breathe again after holding my breath throughout . . . amazing and addictive . . . I enjoyed every second . . . an absolute roller coaster of a story, I will definitely be recommending this one' Goodreads Reviewer'Absolutely brilliant.
I loved every minute of it . . . will grab hold of you and won't let go . . . will simply take your breath away . . . fantastic' Goodreads Reviewer'Brilliant, brilliant, brilliant.
I can say no more. I loved this book from beginning to end and will be looking out for more' Goodreads Reviewer'WOW . . . What a brilliant book . . . hooked from the first page, it was gritty, gripping . . . If you are a fan of Martina Cole, Jessie Keane and Casey Kelleher this is a book for you' Goodreads Reviewer
Information
Format:Paperback / softback
Pages:352 pages
Publisher:Little, Brown Book Group
Publication Date:07/01/2021
Category:
ISBN:9780751581430
Other Formats
Paperback / softback from £7.99