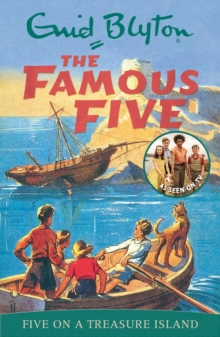 Famous Five: Five On A Treasure Island : Classic cover edition: Book 1
Paperback
Description
Meet Julian, Dick, Anne, George and Timothy. Together they are THE FAMOUS FIVE - Enid Blyton's most popular adventure series.
All 21 titles also available as audiobooks!'There was something else out on the sea by the rocks - something dark that seemed to lurch out of the waves . . . What could it be?'Julian, Dick and Anne are spending the holidays with their tomboy cousin George and her dog, Timothy.
One day, George takes them to explore nearby Kirrin Island, with its rocky little coast and old ruined castle on the top.Over on the island, they make a thrilling discovery, which leads them deep into the dungeons of Kirrin Castle on a dangerous adventure.
Who - and what - will they find there?This edition contains the original cover art and inside drawings by Eileen Soper.
Information
Format: Paperback
Pages: 192 pages, B&W Line Illustrations
Publisher: Hachette Children's Group
Publication Date: 01/03/1997
Category: Adventure
ISBN: 9780340681060
Free Home Delivery
on all orders
Pick up orders
from local bookshops
Reviews
Showing 1 - 2 of 2 reviews.
Review by boppisces
16/06/2015
Julian, Dick and Anne's parents have decided to go away on holiday to Scotland. The children are sent to stay with their Aunt Fanny, Uncle Quentin and cousin Georgina at Kirrin Bay. Georgina looks and acts like a boy and refuses to answer to her proper name. Instead, she tells them, they must call her George. It takes George a while to get used to having her cousins about as she has been on her own for so long. She introduces Julian, Dick and Anne to her best friend, Timothy the dog. Timothy is hidden at fisher-boy Alf's house as George's father told her to get rid of the mongrel. The children spend their time rowing to nearby Kirrin Island, which belongs to Aunt Fanny but is promised to George when she grows up. Just off the island an old wreck that is purported to contain gold can be seen under the water. On the island are the ruins of a castle. One day a fierce storm lifts the old shipwreck out of the shallows and onto the island. The children plan to explore the wreck and search for the lost gold. Unfortunately other people find out about the ship and want the gold for themselves and so an adventure to outwit them ensues. A classic read, a bit dated in places, but still a good adventure.
Review by AbigailAdams26
16/06/2015
Originally published in 1942, <u>Five on a Treasure Island</u> was the first of twenty-one books devoted to the adventures of <i>The Famous Five</i> - siblings Julian, Dick and Anne, their cousin George (Georgina), and her dog Tim. When Julian, Dick and Anne come to stay with their Aunt Fanny and Uncle Quentin at Kirrin Cottage, they aren't sure they will like their cousin, who is a determined tomboy with a penchant for losing her temper, and an only child's dislike of sharing. But the children soon bond as they find themselves caught up in an adventure involving lost gold ingots on nearby Kirrin Island. Will the Famous Five find the treasure in time...?Inspired by an article which listed Enid Blyton as the sixth-most-popular author in the world, I have recently been trying to read some of her books - not always easy here in the United States, where she is relatively unknown. I found <u>Five on a Treasure Island</u> to be an engaging adventure story for young readers, particularly those who are at the series-reading stage. Although Blyton's writing here is rather formulaic, and she occasionally veers into overt moralizing (all those comments about George learning to share), I thought this title was far superior to anything in her fifteen-book <i>Five Find-Outers and Dog</i> series, which was my introduction to her work. I also appreciated that the edition I read had the original illustrations by Eileen A. Soper, and look forward to the next installment!
Also in the Famous Five series | View all