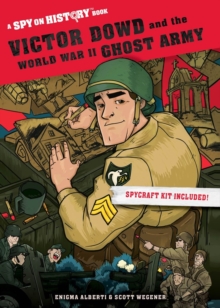 Victor Dowd and the World War II Ghost Army : A Spy on History Book
Paperback / softback
Description
Victor Dowd and the World War II Ghost Army continues the interactive Spy on History series, where middle grade readers get to experience history in a whole new way, now available in paperback. Meet Victor Dowd, illustrator and sergeant in the 603rd Camouflage Engineers, who along with other visual artists used his creative talents to defeat the Nazi Army, save countless lives, and help win the war in Europe.
Read Dowd's heroic story - the 20 battlefield deceptions that employed inflatable tanks and airplanes, sound trucks, and phony radio transmissions to fool the Germans.
Then using spycraft materials included in a sealed envelope inside, discover and unravel clues embedded in the text and illustrations, and solve the book's ultimate mystery. Spycraft materials included: a cipher wheel and sheet of red acetate to decode messages within the book, plus a WWII 'poop sheet' and a vellum sheet featuring the insignia patches of the Ghost Army and the battalions they impersonated.