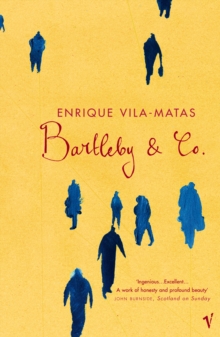 Bartleby And Co
Paperback
Description
Marcelo, a clerk in a Barcelona office who might himself have emerged from a novel by Kafka, inhabits a world peopled by characters in literature.
He once wrote a novel about the impossibility of love, but since then he has written nothing.
He has, in short, become a 'Bartleby', so named after the character in Herman Melville's short story who, when asked to do something, always replied: 'I would prefer not to.'One day Marcelo sets out to make a search through literature for all those other possible Bartlebys, and with this in mind he has the engagingly original notion of keeping a diary and writing footnotes to an invisible text.
His references to authors, both real and invented, provide the reader with extravagant doses of humour that are at once hilarious, irreverent and stimulating.
Information
Format: Paperback
Pages: 192 pages
Publisher: Vintage Publishing
Publication Date: 07/07/2005
ISBN: 9780099453727
Free Home Delivery
on all orders
Pick up orders
from local bookshops
Reviews
Showing 1 - 2 of 2 reviews.
Review by DRFP
16/06/2015
What with the incessant name dropping this reminded me a lot of <i>The Savage Detectives</i>; though that's about where the similarities end. <i>Bartleby &amp; Co.</i> is a pleasant book to read: Vila-Matas has a nice style of writing and the book isn't overly long. Yet for all its playfulness I couldn't help but think this book a little pointless. Perhaps it's just a post-modern novel and that shouldn't bother me but I would have enjoyed learning a bit more about the narrator. The snippets we're allowed to see of his life are interesting and primed me for more. I was frustrated that was all Vila-Matas provided in the way of detail.That's really all there is to this novel though. If you don't mind a post-modern book with no plot, just a lot of digressions on authors real or not, then this will be a fun distraction. If, like me, you expect a bit more character depth or plot then you'll probably enjoy the pleasant prose and the neat idea but that won't leave you feeling satisfied at the novel's end.
Review by thorold
16/06/2015
Engaging short novel in the form of a set of footnotes to an invisible text, discussing the distinguished history of the "literature of No" — a book, in other words, about the art of <i>not</i> writing. Vila-Matas is conscious of the paradoxical nature of the subject, and even acknowledges briefly at one point that "not writing" is not the exclusive province of a small and elusive literary élite, but is in fact practised by 99.9% of the population. He doesn't really develop the point, what he's really about is poking a bit of fun at some of the received ideas about literary greatness. Along the way, we get a good supply of entertaining anecdotes about celebrated (non-)writers.Jonathan Dunne's English translation seems pretty good on the whole, but there were a few things that undermined my confidence in him - for instance when he talks about "verses" of poetry when the context makes it almost certain that "lines" are meant ("versos" in Spanish could mean either). I should make more effort to improve my Spanish so that I don't have to keep reading translations...