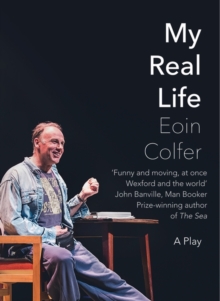 My Real Life
Paperback / softback
Description
In this stunning one-man play by the award-winning and bestselling author Eoin Colfer - `a born raconteur... a true original' (Daily Telegraph) - Wexford man Noel asks his best friend for `a bit of a speech, for the afters'.
We soon learn that the `afters' in question are Noel's own funeral.
He has been diagnosed with MS and has decided to end it all. Sitting alone in his room waiting for the pills to take effect, Noel dictates his final thoughts on two sides of a 90-minute cassette tape for his best friend.
Being `of sound mind and unsound body', he has apologies to make and messages to send.
He has love in his heart and he wants to declare it, even if it's already too late. And so he spends what is possibly the last hour of his life reliving the highs and lows of the past forty years. My Real Life is sharply written, sensitive, funny and immensely moving, a tour de force by Colfer who with `his great humanity [and] comic genius' (director Ben Barnes) has created an unforgettable play - theatre at its very best.
Information
Format: Paperback / softback
Pages: 80 pages
Publisher: Duckworth Overlook
Publication Date: 04/05/2017
Category: Plays, playscripts
ISBN: 9780715652459