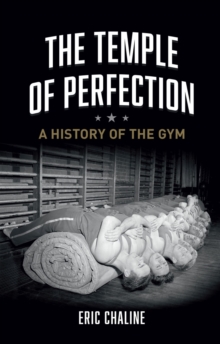 The Temple of Perfection
Hardback
Description
Many of us have exercised in a gym; many more of us intend, at some point, to join one.
Some work out at the gym with the regularity and zeal once reserved for attending religious services.
It is seen as an emblem of modernity, yet the gym's origins date back 2,800 years to the beginnings of Western civilization.
The Temple of Perfection charts the gym's long history, exploring its enduring appeal and growing popularity in a world increasingly obsessed with plastic surgery quick fixes and pharmaceutical methods of attaining physical fitness.
Despite its significance, the gym's complex, layered history and its influence on the development of Western individualism, society, education and politics has never been properly considered.
This book examines how body care arose from spiritual beliefs, moral discipline and aesthetic ideals.
Today, training in a gym is primarily associated with individual fulfilment, though the gym has always had a secondary role in creating men and women 'fit for purpose' - but exactly for what and whose purpose?Across its incarnations, the gym has been a stage for the interests of individuals, nation-states, the media and the corporate world to intersect, sometimes with unintended consequences.
Although the gym may look like a place where the self-obsessed pursue the superficial ideal of physical perfection, Eric Chaline argues that it has always been one of the principal battlefields of humanity's social, political, sexual and cultural wars.
The history of the gym is a history of the human body: its authentic and idealized forms, artistic representation, and public and private presentation.
While this book might not make us join a gym, it will change the way we think about the concept of it, our bodies and our attitudes to fitness.
Information
Format: Hardback
Pages: 224 pages
Publisher: Reaktion Books
Publication Date: 01/03/2015
ISBN: 9781780234496
Free Home Delivery
on all orders
Pick up orders
from local bookshops