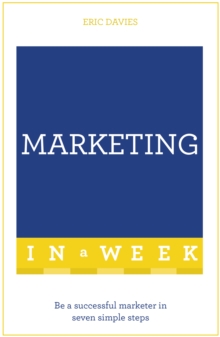 Marketing In A Week : Be A Successful Marketer In Seven Simple Steps
Paperback / softback
Description
Great marketing just got easierMarketing is about the relationship between an organization and its marketplace, and in particular its customers and potential customers.
Customers are the lifeblood of a business; without customers a business has no future.
In order to succeed and make a profit, a business must therefore aim to identify and satisfy the needs of its customers.
The purpose of marketing is to help the business achieve these aims.
In this book you will learn, in a week, about the nature and techniques of successful marketing and how it can improve business performance. Today's business world is highly competitive and changing fast, and marketing, as a body of knowledge and best practice, must respond to these changes.
However, there is one fundamental fact about marketing that remains constant: it is that, to become successful and remain successful, an organization must be better at meeting customers' needs than the competition. Each of the seven chapters in Marketing In A Week covers a different aspect:- Sunday: What is marketing?- Monday: Marketing and the customer- Tuesday: Marketing information and marketing research- Wednesday: Strategic marketing- Thursday: The marketing mix - product and price- Friday: The marketing mix - place- Saturday: The marketing mix - promotion
Information
Format: Paperback / softback
Pages: 128 pages
Publisher: John Murray Press
Publication Date: 25/05/2012
Category: Sales & marketing
ISBN: 9781473609587
Other Formats
EPUB from £2.99
Paperback from £6.39