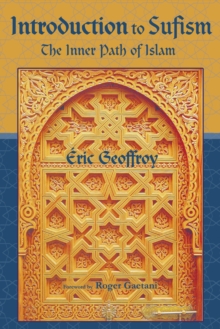 Introduction to Sufism : The Inner Path of Islam
Paperback / softback
Description
In this introductory, yet comprehensive book, Eric Geoffroy explains that Sufism is the inner dimension of Islam and has its source in the Koran and in the life and sayings of the Prophet Muhammad.
Geoffroy discusses how Sufism was formed and how great masters have adapted its initiatic doctrines and practices to changing conditions within the Muslim world.
Surveying the history of Sufism, this book covers its earliest days up until our own times and addresses Sufism's uneasy relationship with various forms of fundamentalism.
Replete with many sayings from various Sufis throughout the ages, including Ibn Arabi, Rumi, Hallaj and Ghazali, this book uniquely presents Sufism "as it is lived" by highlighting the importance of the spiritual master, the method, rites and conduct in daily life, as well as the role of the feminine in Sufism.
This is Dr. Geoffroy's first book to be translated into English in its entirety. Translated and with a Foreword by Roger Gaetani
Information
Format: Paperback / softback
Pages: 224 pages
Publisher: World Wisdom Books
Publication Date: 29/05/2010
Category: Sufism & Islamic mysticism
ISBN: 9781935493105
Free Home Delivery
on all orders
Pick up orders
from local bookshops