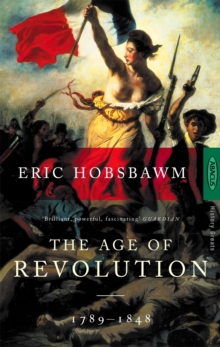 The Age of Revolution : 1789-1848
Paperback
Description
Eric Hobsbawm traces with brilliant anlytical clarity the transformation brought about in evry sphere of European life by the Dual revolution - the 1789 French revolution and the Industrial Revolution that originated in Britain. This enthralling and original account highlights the significant sixty years when industrial capitalism established itself in Western Europe and when Europe established the domination over the rest of the world it was to hold for half a century.
Information
Format: Paperback
Pages: 416 pages, Section: 16, B&W
Publisher: Little, Brown Book Group
Publication Date: 01/01/1988
Category: European history
ISBN: 9780349104843
Free Home Delivery
on all orders
Pick up orders
from local bookshops
Reviews
Showing 1 - 3 of 3 reviews.
Review by RobertDay
16/06/2015
Hobsbawm links the two great revolutionary years - 1789, the year of the French Revolution and 1848, the year of revolutions that swept Europe but whose effects were more subtle - and describes the events, moments and thoughts of the 50-odd years that separate them. This was also the period of the Industrial Revolution and also revolutions in agriculture and science. Hobsbawm sets this period as the founding of our modern world.Written in 1962, this book has occasional sylistic lapses which made me stop in a couple of places and go "eh?". Some of his throwaway comments I also disagreeed with, especially in areas which were a little tangental to his main argument. But overall, this is a worthy analysis of the period. Hobsbawm was one of post-war Britain's noted left-wing academics, but although he gives prominence to the rise of socialism (including the socialists and proto-socialists before Marx and Engels), he also gives due credit to the role of laissez-faire liberalism and capitalism in creating the modern world.
Review by the.ken.petersen
16/06/2015
I may be too ignorant to comment upon what appears to be an academically praised book, but for me, as an interested outsider, this book failed to make history live.It reminded me of the turgid books of my youth: sitting in a history lesson with a host of facts, figures and dates sailing over my, ever more comatose head. I am sure that Mr Hobsbawm is to academe what Bart Simpson is to over-aged school children but, sadly, his style does not reach this amateur historian.
Review by thorold
16/06/2015
Heavyweight analytical history, but definitely worth the struggle if you have enough basic knowledge of the period to keep track of where you are. It's a bit like being in an Oxford tutorial: the ideas come flying at you at a great rate, and you're left to join up the dots as best you can. And most of the time you end up wondering why you never made that particular intellectual leap yourself, it's so obvious in hindsight. The chapter on the industrial revolution, in particular, became a whole string of those "Aha" moments for me.Limitations: not many. Obviously, it's a book that was written half a century ago, and it goes with a left-wing way of thinking that isn't very fashionable any more. At times it's a bit like reading an Old Testament commentary, in the way it seems to treat everything that happened before 1848 as a preparation for the coming of Karl Marx. But that's certainly not a reason to dismiss Hobsbawm: you're free to agree with his politics or not, as you choose. The style is fluent and professorial: there aren't many jokes, and those there are tend to be a bit heavy-handed; on the other hand, there are hardly any dull stretches, and jargon is kept to an absolute minimum. Not many recent history books, even popular ones, are as agreeable as this to read.