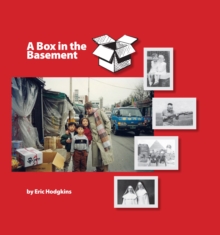 A Box in the Basement
Hardback
Description
Looking for things to throw away to relieve the crowding, after pulling things aside and getting deeper into the dark, damp, cinder blocked room like an Egyptologist, I opened dusty, brown, cardboard boxes with faded writing from magic markers past; boxes unmoved and untouched for 39 years.
I was stunned to find a treasure of letters and photographs; some over 100 years old.
It was apparent that these boxes came with my grandmother on my mothers side (Matilda Loepp) from Sioux City, Iowa when she moved in with us in 1980; and they simply stayed there after she passed away in 1982, unchecked and forgotten.
I realized that I was, at that moment, the only person who knew of the existence of these pictures; that my mother at 85 years of age and her sister at 88 years of age were the last two people who could solve the mystery of these photos, taken half a century to more than a century ago; I realized that Fate on behalf of the Loepps past, had bestowed on me the family duty of recovering these life stories and passing them on. our grandmother in Iowa, Mrs. Loepp, had kept this simple Christmas card with her for the rest of her life from 1964 to 1982.
As my parents house was her final residence, there were some boxes with her belongings stored in the basement.
Only this year did I find this box and discover the things she saved and valued.
Information
Format: Hardback
Pages: 112 pages
Publisher: Dementi Milestone Publishing
Publication Date: 15/07/2019
Category: Family & relationships
ISBN: 9781733026819
Free Home Delivery
on all orders
Pick up orders
from local bookshops