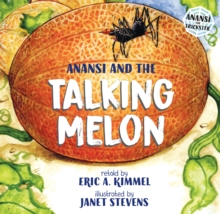 Anansi and the Talking Melon
Paperback
Information
Format: Paperback
Pages: Illustrations, unspecified
Publisher: Holiday House Inc
Publication Date: 01/01/1994
Category: Picture books
ISBN: 9780823411672
Free Home Delivery
on all orders
Pick up orders
from local bookshops
Reviews
Showing 1 - 5 of 7 reviews.
Previous | Next
Review by kaitye24
16/06/2015
I loved Anansi and found enjoyment reading this story. Great pictures
Review by IEliasson
16/06/2015
Eric Kimmel's comical retelling of West African trickster tale, Anansi and the Talking Melon, is ideal material for story time read alouds. The insolent Anansi entertains himself by tricking all the animals into thinking he is the voice of a talking melon. As each animal has a joke made at their expense, they assemble to present the talking melon to the king monkey. When the melon insults the king with a real humdinger, the melon gets thrown and broken, freeing Anansi to tease again. The illustrations by Janet Stevens add to the humor of the story with outraged expressions of the offended animals. This Anansi tale would be a welcome addition to any Anansi folklore collection 
Review by WSRobitaille
16/06/2015
This story is the third tale in a series about Anansi the spider. Anansi decides to burrow inside a melon in an elephants melon patch for something to eat. Once inside, he gets so bloated with all the melon he has eaten to be able to leave through the hole he made. To pass his time while the melon digests he decides to trick the animals in the kingdom into thinking the melon can talk. This story was a great example of a trickster tale and the spider is a sassy and amusing character that spends his time insulting everyone. The illustrations are bright and detailed and do a great job supporting the text. I also enjoyed that they used slightly unusual supporting characters, such as the warthog,which makes the typical trickster story more interesting.It won the 1998 Beehive Awards (Utah): Children's Picture Books.
Review by mrcmyoung
16/06/2015
Anansi fools all of the animals on the savanna when he borrows his way into a melon and starts talking to them while he waits to digest his meal. Hilarity ensues. This would be a fun book to act out with the little ones in the library.
Review by Mparis
16/06/2015
A delightful tale of a tricky little spider.Anansi the spider really wants to eat some melon. He over stuffs himself and can't get out of the melon until he slims down. In the meantime, he decides it would be fun to trick the animals of Africa to think the melon was able to speak.Classroom connection: African folktales/animals