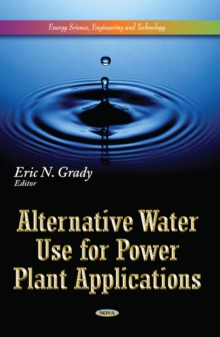 Alternative Water Use for Power Plant Applications
Hardback
Description
A U.S. Department of Energy National Energy Technology Laboratory (DOE/NETL) study estimated that in 2005, total U.S. freshwater withdrawals for thermoelectric power generation amounted to approximately 146 billion gallons per day (BGD), while freshwater consumption was 3.7 BGD.
Coal-fired power plants use water for cooling water systems, flue gas desulphurisation (FGD) makeup, boiler makeup, ash handling, wastewater treatment, and general plant wash down.
As the population continues to increase, electric and water demands are expected to grow.
Thermoelectric power generation requires a large quantity of freshwater to support operations.
In regions of the country with limited freshwater supplies, thermoelectric power generation may be competing with other uses for dwindling freshwater supplies.
This book focuses on the research that has been done to date for the non-traditional sources of process and cooling water components.
Studies in this research area focus on identifying potential new water sources, including brackish and saline water supplies and various domestic and industrial wastewaters.
In particular, these studies focus on understanding the location, volumes, and quality of different non-traditional waters, as well as treatment technologies to reduce the scaling, biofouling, and corrosion potential of available impaired waters that would not otherwise be useful in a cooling water system or other processes within a thermoelectric plant.
Information
Format: Hardback
Pages: 189 pages
Publisher: Nova Science Publishers Inc
Publication Date: 01/11/2013
Category: Power generation & distribution
ISBN: 9781628089868
Free Home Delivery
on all orders
Pick up orders
from local bookshops