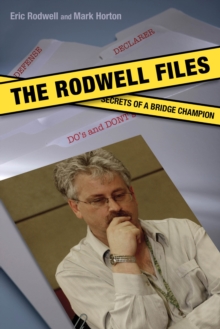 The Rodwell Files : The Secrets of a World Bridge Champion
Paperback
Description
This is the most important technical bridge book published since Larry Cohen's To Bid or Not to Bid (60,000 copies in English alone), and may well reach an even bigger audience. There are two aspects to this book, both unique. First, Rodwell describes and explains a host of innovative ideas in cardplay, strategems that can be used as declarer or defender. Second, under the heading 'Common Mistakes', Rodwell talks about the mental side of the game: areas that mark the key differences between an average player and a successful one.
The first draft of this book has been in existence for more than fifteen years, but it is only now that Rodwell is prepared to allow his 'secrets' to become public knowledge.
Information
Format: Paperback
Pages: 400 pages, b&w illus
Publisher: Master Point Press
Publication Date: 01/08/2011
Category: Bridge
ISBN: 9781897106679
Free Home Delivery
on all orders
Pick up orders
from local bookshops
Reviews
Showing 1 - 1 of 1 reviews.
Review by sthitha_pragjna
16/06/2015
Eric Rodwell, the professorial half of the famous pair "Meckwell" that has dominated bridge for decades, has written a work for an advanced audience, which according to the blurb "is guaranteed to change the way you play bridge."Nearly 400 pages, chockful of examples from high-level practice where the names of the innocent are not withheld, illustrate the points of technique. You will find here pointers in planning, in suit combinations, advanced suit handling, in abundance over double and compound squeezes. Rodwell uses colorful and memorable terms for the techniques, such as "gouging", "days of thunder", "The Left Jab" (second hand high from Kxx or Qxx when declarer leads to dummy's AJTx), "The 007 Play - License to Kill", my personal favorite "Chinese High Card Promotion" (not to be confused with the well-known Chinese finesse),and the 322-1/6 Super Duck (Dont even ask).Rodwell's unique style of instruction, his extremely high level of analysis, make this unique book a standout in bridge literature, and one that is sure to be talked about for years to come.