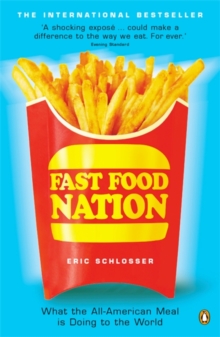 Fast Food Nation : What the All-American Meal is Doing to the World
Paperback
Description
Now the subject of a film by Richard Linklater, Eric Schlosser's explosive bestseller Fast Food Nation: What the All-American Meal is Doing to the World tells the story of our love affair with fast food.
Britain eats more fast food than any other country in Europe.
It looks good, tastes good, and it's cheap. But the real cost never appears on the menu. Eric Schlosser visits the lab that re-creates the smell of strawberries; examines the safety records of abattoirs; reveals why the fries really taste so good and what lurks between the sesame buns - and shows how fast food is transforming not only our diets but our world. 'Fast Food Nation has lifted the polystyrene lid on the global fast food industry ...and sparked a storm' Observer 'Has wiped that smirk off the Happy Meal ...Thanks to this man, you'll never eat a burger again' Evening Standard 'Startling ...Junk food, we learn, is just that ...left this reader vowing never to set foot in one of those outlets again' Daily Mail 'This book tells you more than you really want to know when you're chomping on that hamburger ...Have a nice day?Listen - you should live so long' The Times Eric Schlosser is a correspondent for the Atlantic Monthly.
His first book, Fast Food Nation, was a major international bestseller.
His work has appeared in the Atlantic Monthly, Rolling Stone and the Guardian.
He has received a number of journalistic honours, including a National Magazine Award for an Atlantic Review article on the drug trade, which was later adapted into the book Reefer Madness.
Information
Format: Paperback
Pages: 400 pages, illustrations
Publisher: Penguin Books Ltd
Publication Date: 01/04/2002
Category: Cultural studies
ISBN: 9780141006871
Free Home Delivery
on all orders
Pick up orders
from local bookshops
Reviews
Showing 1 - 5 of 7 reviews.
Previous | Next
Review by m8eyboy
16/06/2015
Do not judge a book by its cover, especially this book. Going by the glowing testimonials, you would be forgiven for thinking FFN is about what is in our food. It is, but to focus on revelations like the incidence of excrement in burgers is to miss the point, so expertly argued, that big business shapes society, culture and the individual, often unchallenged. Much more than a catalogue of poisoned consumers, exploited workforces and brow-beaten suppliers it is a surprisingly optimistic and colourful commentary on the state of capitalism today. Essential reading if investing in unprincipled companies gives you indigestion.
Review by soylentgreen23
16/06/2015
Schlosser has written one of those "sit up and pay attention" books here, concerning the modern phenomenon of fast food. His writing is clear and punchy and he does a very good job of informing without evangelising. The picture he paints is depressing, certainly, but one feels that the aim here is to reach a better understanding of the situation, so that work can be done to improve it.
Review by aannttiiiittnnaa
16/06/2015
Still want to eat fast food after reading this book? I don't think so! Amazingly in depth study of the origins, industry, manipulations and consequences of the giant multinational corporations. Take heed, the information on just how many cows contribute to the average burger patty is truly disgusting, not to mention the rest of the unlisted ingredients!
Review by jpsnow
16/06/2015
I expected to be so disgusted at both the production and politics that I might consider vegetarianism. Neither occurred. Schlosser offers an engrossing history of the fast food industry (souther California drive-in's, Carl Karcher, Ray Kroc, the McDonald's brothers, J.R. Simplott). He provides a thorough survey of the production process. He addresses some of the unsafe and unsavory practices. And He shares signs of human hope and despair. But he fails to convince me the topic merits the attention this book has received, and I believe the solutions he advocates would only exacerbate the very situation he deplores. His support of regulation, antitrust, and labor law would only raise the already discouraging barriers to entry that have contributed to the descreasing number of producers. He concludes with a set of recommended actions and a point - that we have a choice. He did convince me to exercise that choice in pursuit of more authentic, natural beef. But I'll still take some of those tasty McDonald's fries with that.
Review by Othemts
16/06/2015
An unsettling expose of what goes into making our food in today's agribusiness. It's hard not to be disgusted and outraged by the things Schlosser describes. Recommended reading for anyone who eats.