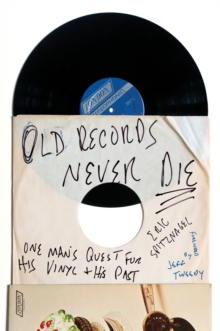 Old Records Never Die : One Man's Quest for His Vinyl and His Past
Paperback / softback
Description
A Hudson Booksellers Best Non-Fiction Book of the Year, with forewordby Wilco's Jeff Tweedy High FidelitymeetsKilling Yourself to Livewhen one man searches for his lost record collection.
As he finds himself within spitting distance of middle-age, journalist Eric Spitznagel feels acutely the loss of something.
Freedom? Maybe. Coolness? Could be. The records he sold in a financial pinch? Definitely. To find out for sure, he sets out on a quest to findthe original vinyl artifacts from his past.
Not just copies. The exact same records: TheBonJovirecord with his first girlfriend's phone number scrawled on the front sleeve.
TheKISS Alive IIhe once shared with his little brother.
The ReplacementsLet It Behe s pretty sure, 20 years later, would still smell like weed. As he embarks on his hero's journey, he reminisces about the actual records, the music, and the people he listened to it with old girlfriends, his high school pals, and, most poignantly, his father and his young son.
He explores the magic of music and memory as he interweaves his adventures in record-culture with questions about our connection to our past, the possibility of ever recapturing it, and whether we would want to if we could. "Memories are far more indelible when married to the physical world, and Spitznagel proves the point in this vivid book.
We love vinyl records because they combine the tactile, the visual, the seeable effects of age and care and carelessness.
When he searches for the records he lost and sold, Spitznagel istrying to return to a tangible past, and he details that process with great sensitivity and impact." Dave Eggers, New York Times bestselling author ofThe Circle"
Information
Format: Paperback / softback
Pages: 274 pages
Publisher: Penguin Putnam Inc
Publication Date: 14/04/2016
ISBN: 9780142181614
Free Home Delivery
on all orders
Pick up orders
from local bookshops
Also by Eric Spitznagel