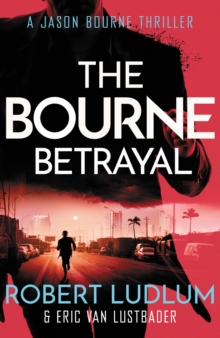 Robert Ludlum's The Bourne Betrayal
Paperback
Description
Jason Bourne is back in the forthcoming major motion picture starring Matt Damon and Alicia Vikander.
Go back to where it all began for Bourne in his original adventures. 'Watch your back 007 - Bourne is out to get you' - Sunday TimesJason Bourne takes a mission to rescue his only friend in the CIA, Martin Lindros, who disappeared in Africa while tracking shipments of yellowcake uranium.
Once safely back in America, Lindros persuades Bourne to help track the money trail of terrorists buying the nuclear material.
Bourne agrees - but soon suffers from confusing flashbacks of unfamiliar places and events.
Is someone brainwashing him in order to throw him off the trail?
Worse still, is the man he saved really Martin Lindros?
Now Bourne is on his own - gathering evidence, while trying to stay one step ahead of the terrorists who are determined to destroy the USA...
Information
Format: Paperback
Pages: 576 pages
Publisher: Orion Publishing Co
Publication Date: 01/02/2010
Category: Thriller / suspense
ISBN: 9781409117636
Free Home Delivery
on all orders
Pick up orders
from local bookshops
Reviews
Showing 1 - 1 of 1 reviews.
Review by Speesh
16/06/2015
Am I ok in saying this is an excellent read? A thoroughly tip-top thriller? One of the very best?<br/><br/>Credibility...Meet window?<br/><br/>I hope not. I don't think so. In fact, I'm sure not. Because this one did exactly what it says on the tin and thrilled the whatsits off me. Why on earth do we read books, if not for pleasure? And reading this one is as pleasurable an experience as they come.<br/><br/>But first, a word of warning: Don't read the summary on the back. In my view, it gives away way too much of much too many important plot turns for my liking. I didn't read it myself, until I was coincidentally 3/4 of the way in and all the points mentioned had passed. I didn't read it myself as I bought this book, knowing full well what I was getting into (as surely do most people with anything Bourne-related?). So I was able to enjoy the swallowing of red herrings and denouements, hook, line and sinker (yeah, that works).<br/><br/>Really, this is as close to a 5 Star review as one of these things is ever going to get. I'm not going to try and tie myself up win knots trying to convey the plot. And you know what you're getting, writing-style-wise. There were only a couple of places where I had to partially suspend belief, with a whispered, as the Welsh say; 'there's lucky', under my breath.<br/><br/>Eric Van Lustbader is not Robert Ludlum (but then, who is?). He's certainly in the style of, and doing an admirable job in picking the baton up, keeping the flame alight, etc etc. No one can match Ludlum for economy and clout, but Eric comes very close. That's high praise, in my book. Though in trying to analyse the differences between the two, I became more convinced that the further the series has gone on, the more Eric's own style has come through. Almost to the point where I think they should drop the 'Robert Ludlum's...' on the cover. Obviously, the marketing department aren't going to do that, but there is no doubt here, that this is Eric Van Lustbader's Jason Bourne now. Bourne, born again.<br/><br/>Earlier in the series - and the films, which are more or less the first three books - the questions Jason Bourne was asking could pretty much be boiled down to "who am I?" I think he was really asking, or at least the questions should really be interpreted as "what is my name?" Nowadays, in these later books he's more struggling to find his personality. His question is now "what kind of person am I?" Or, "what kind of person was I?", as he's now Jason Bourne. Not who he was originally. Before he was Bourne. If you can say that.<br/><br/>And with all this 'Prism' and listening to phone calls, reading of emails and generally keeping an eye on all of us; the Bourne books and films are beginning to look like more like documentaries!
Also in the Jason Bourne series | View all