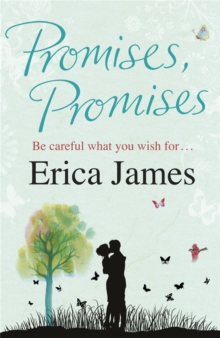 Promises, Promises
Paperback
Description
'I Must Stand Up for Myself More', promises Maggie Storm, who spends her days cleaning houses for people who often have more money than manners.
Married to a man with as much sex appeal as Mr Blobby, she dreams of a life straight from the pages of a romantic novel. 'My Head Must Rule Over My Heart', promises Ella Moore, who, determined never to let her heart get the better of her again, is recovering from seven wasted years of failing to win over the daughter of the man with whom she wanted to spend the rest of her life. 'No More Women', promises Ethan Edwards, who, to distract himself from the depressing sham of his marriage, is a repeat offender when it comes to turning to other women for sexual consolation.
But when Ella appears unexpectedly in his life, he finds himself turning to her for very different reasons...
Information
Format: Paperback
Pages: 448 pages
Publisher: Orion Publishing Co
Publication Date: 04/06/2011
ISBN: 9781409102588
Free Home Delivery
on all orders
Pick up orders
from local bookshops
Reviews
Showing 1 - 1 of 1 reviews.
Review by SueinCyprus
02/03/2016
Ethan is something of a womaniser - but who can blame him, married to the shallow, materialistic (albeit attractive) Francine. Their cleaner Maggie is married to Dave, who could best be described as a sexist slob... so she dreams of romance and loses herself in library books. Then there's Ella, who is commissioned by Francine to paint a mural in her dining room. Ella has just broken up from Lawrence due to the continual aggression from his teenage daughter. However she gets along extremely well with Lawrence's son, who would love to see them get back together again...<br/><br/>The novel follows each of these different people in their own lives and interacting with each other. It provides wonderful character studies - even if Francine and Dave are both rather caricatured examples of their type. All have made promises, all wonder whether or not they can keep them. As Ethan's business suffers in the recession, he becomes increasingly frustrated with his extravagant wife and their daughter (who is made in the same mould as her mother); Maggie determines to stand up for herself against her husband and his unpleasant relatives; Ella, who I related to best, has to discover who she really loves and what she wants to do with the rest of her life. <br/><br/>The novel was perhaps a little over-long; I found that in the middle I was skimming a bit as there wasn't much happening, but the writing is good, the dialogue believable, and the outcome satisfactory, even if somewhat predictable. <br/><br/>Recommended.