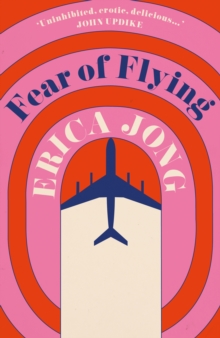 Description
The modern classic that changed the way we thought about sex`Bigamy is having one husband too many.
Monogamy is the same' - Anonymous (a woman)Compulsive daydreamer Isadora Wing has come to a crossroads.
Five years of marriage have made her itchy - itchy for men, and itchy for solitude.
Ditching her second husband during a work conference in Vienna she decides to cut and run, criss-crossing her way across Europe in search of the perfect no-strings-attached tryst - and she won't let a little thing like a fear of flying get in her way.
Witty, fearless and exuberant, Fear of Flying remains as sensational today as when it was first published.
Information
Format: Paperback
Pages: 352 pages
Publisher: Vintage Publishing
Publication Date: 13/06/1994
ISBN: 9780749396053
Free Home Delivery
on all orders
Pick up orders
from local bookshops
Reviews
Showing 1 - 2 of 2 reviews.
Review by SamuelW
16/06/2015
How is it that Isadora Wing is such a sympathetic character? She has sex on the brain constantly; she dreams about 'zipless fucks' in train carriages with strangers. Over the course of <i>Fear of Flying</i>, she sleeps with hundreds of men. By our society's standards, she'd be 'a slut', 'a whore', 'a loose woman'. And yet, in Jong's eyes, she's merely human. She rides through the novel on a roller coaster of the same emotions that all of us, women and men, feel. Isadora is no worse than all the sleazy men of Europe, 'opening their doors and whispering <i>vieni</i>, <i>vieni</i>' – so why does it shock us to hear a woman expressing her own feelings of unmitigated sexual desire? Answer: it shouldn't, and after three hundred pages of Jong's writing, it won't. This is why <i>Fear of Flying</i> is such a valuable experience for <i>male</i> readers – it has the potential to change the way we think about sex and the female brain.Isadora's narration has such an energetic flow that one can't help but accelerate into it. Before I knew it, I'd been swept away on one of her tangents about sex or family or literature. The constant philosophising seemed didactic at first, but I soon accepted it as a crucial attribute of Jong's writing. Perhaps this is the quintessential 'feminine' style, rich in literary multitasking – a foil to the dominant 'masculine' style of the past thousand years where the author describes events more or less as they unfold, one at a time. What Isadora thinks and wants is as important as, if not more important than, what she does.So what does she think? What does she want? It's difficult to say, because it changes from chapter to chapter, even from page to page. She wants to be with others, she wants to be alone, she wants to take risks, she wants to be secure, she wants to be with Bennet, she wants to be with Adrian, she wants to be independent, she wants to be a housewife. This seems to be one of Jong's key messages: feelings of attraction and desire are, by their very nature, in a constant state of flux. To try to diagnose Isadora, to analyse her, categorise her, would be futile – hence the irony of all the psychoanalysis that permeates the novel. Freud's theories are given some credence, but Jong ultimately implies that they are flawed and simplistic – perhaps because Freud 'thought the sun revolved around the penis.' To quote D.H. Lawrence in the epigraph of Chapter 18 – (this book is so layered with references that each chapter has its <i>own</i> epigraph!) – 'The real trouble about women is that they must always go on trying to adapt themselves to men's theories of women.' Isadora is simply Isadora. We cannot sum her up; the only way to experience her is to be exposed to three hundred pages of her experiences, her thoughts, her feelings. As such, the parameters of any slice of her life are going to be somewhat arbitrary – who can say how she will change in the years after the novel ends? – but Jong gives us a remarkable picture of her, absorbing and memorable, right to the very last page.
Review by dbsovereign
02/03/2016
Jong makes us laugh at her fear and her various sexual escapades. This book allowed straight women to imagine going where only gay men had gone before. "The zipless fuck is absolutely pure. It is free of ulterior motives. There is no power game . The man is not 'taking' and the woman is not 'giving.' No one is attempting to cuckold a husband or humiliate a wife. No one is trying to prove anything or get anything out of anyone. The zipless fuck is the purest thing there is. And it is rarer than the unicorn. And I have never had one."