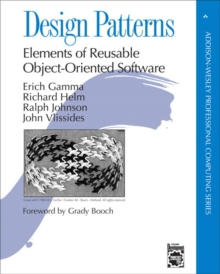 Design Patterns : Elements of Reusable Object-Oriented Software
Hardback
Description
* Capturing a wealth of experience about the design of object-oriented software, four top-notch designers present a catalog of simple and succinct solutions to commonly occurring design problems.
Previously undocumented, these 23 patterns allow designers to create more flexible, elegant, and ultimately reusable designs without having to rediscover the design solutions themselves. * The authors begin by describing what patterns are and how they can help you design object-oriented software.
They then go on to systematically name, explain, evaluate, and catalog recurring designs in object-oriented systems.
With Design Patterns as your guide, you will learn how these important patterns fit into the software development process, and how you can leverage them to solve your own design problems most efficiently.
Information
Format: Hardback
Pages: 416 pages, Illustrations
Publisher: Pearson Education (US)
Publication Date: 31/10/1994
Category: Object-oriented programming (OOP)
ISBN: 9780201633610
Other Formats
Hardback from £29.09
CD-ROM from £39.49
Free Home Delivery
on all orders
Pick up orders
from local bookshops
Reviews
Showing 1 - 5 of 8 reviews.
Previous | Next
Review by tongqg
16/06/2015
The famous book to have a deep explaination to design patterns
Review by Pattern-chaser
16/06/2015
The software-patterns bible. If you know what patterns are, you should already have read it.
Review by billmcn
16/06/2015
Perhaps more referenced than read...that's certainly the case for me. I've never tried to implement one of these things, but every once and a while I skim the patterns and it's useful to have the ideas filed away.
Review by celephicus
16/06/2015
When I first started C++ I was rapt with this book. It actually gave me an idea what to use all the C++ syntax for. Now 10 years later I think that the book is mainly a crutch for retentive designers who want to make sure that they can hide or expose parts of their system design. Sure the concepts are valuable, but the summary on the endpapers almost suffices to describe the pattern in question. Since I do not program in a statically typed language like C++ or Java anymore, the implentations are painful to read. Most of the patterns, apart from Interpreter which should not be a pattern anyway, are only a few lines in more dynamic languages (like Python).And I use the State pattern everyday, but I code it in C and it is less horrible than the bloated C++ behemoth with it's abstract interfaces and concrete subclasses like the seven heads of something from the book of Revelation. OO is a natural solution for many problems, like web or GUI frameworks. It is not so good for many others.So nice try, and full marks for naming these things, but I think that the Patterns movement is obsessing over the wrong things. I have given this book one star, I see one other person has also done so. At least I don't form a procession of one.
Review by ztutz
16/06/2015
Category theory lite for computer programmers.This book seemed profound when it came out, but has not panned out as a religion. As an isolated analysis technique, it is a great thing; trying to take it further is questionable.