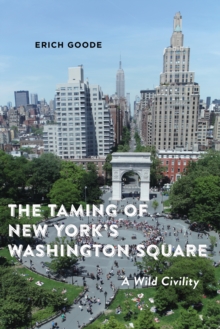 The Taming of New York's Washington Square : A Wild Civility
Paperback / softback
Description
The surprising and unofficial system of social control and regulation that keeps crime rates low in New York City's Washington Square Park Located in New York City's Greenwich Village, Washington Square Park is a 9.75-acre public park that is perhaps best known for its historic Washington Square Arch, a landmark at the foot of 5th Avenue.
Hundreds, if not thousands, pass through the park every day, some sit on benches enjoying the sunshine, play a game of chess, watch their children play in the playground, take their dog to the dog runs, or sit by the fountain or, sometimes, buy or sell drugs.
The park has an extremely low crime rate. Sociologist, and local resident, Erich Goode wants to know why.
He notes that many visitors do violate park rules and ordinances, even engaging in misdemeanors like cigarette and marijuana smoking, alcohol consumption, public urination, skateboarding and bike riding. And yet, he argues, contrary to the well-known "broken windows" theory, which suggests that small crimes left unchecked lead to major crimes, serious crimes hardly ever take place there.
Why with such an immense volume of infractions-and people-are there so little felonious or serious, and virtually no violent, crime? With rich and detailed observations as well as in-depth interviews, Goode demonstrates how onlookers, bystanders, and witnesses-both denizens and your average casual park visitor-provide an effective system of social control, keeping more serious wrongdoing in check.
Goode also profiles the parks visitors, showing us that the park is a major draw to residents and tourists alike.
Visitors come from all over; only a quarter of the park's visitors live in the neighborhood (the Village and SoHo), one out of ten are tourists, and one out of six are from upper Manhattan or the Bronx.
Goode looks at the patterns of who visits the park, when they come, and, once in the park, where they go.
Regardless of where they live, Goode argues, all of the Park's visitors help keep the park safe and lively. The Taming of New York's Washington Square is an engaging and entertaining look at a surprisingly safe space in the heart of Manhattan.
Information
Format: Paperback / softback
Pages: 336 pages, 21 Illustrations, black and white
Publisher: New York University Press
Publication Date: 04/12/2018
Category: Urban communities
ISBN: 9781479898213
Free Home Delivery
on all orders
Pick up orders
from local bookshops