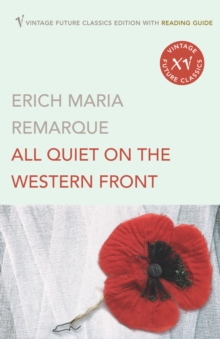 All Quiet on the Western Front
Paperback
Description
All Quiet on the Western Front is probably the most famous anti-war novel ever written.
The story is told by a young 'unknown soldier' in the trenches of Flanders during the First World War.
Through his eyes we see all the realities of war; under fire, on patrol, waiting in the trenches, at home on leave, and in hospitals and dressing stations.
Although there are vividly described incidents which remain in mind, there is no sense of adventure here, only the feeling of youth betrayed and a deceptively simple indictment of war - of any war - told for a whole generation of victims.
Information
Format: Paperback
Pages: 240 pages
Publisher: Vintage Publishing
Publication Date: 01/09/2005
Category: Classic fiction (pre c 1945)
ISBN: 9780099496946
Other Formats
Paperback from £4.89
Hardback from £10.00
CD-Audio from £9.95
EPUB from £4.58
eAudiobook MP3 from £3.75
Free Home Delivery
on all orders
Pick up orders
from local bookshops
Reviews
Showing 1 - 3 of 3 reviews.
Review by literarytiger
16/06/2015
I was speechless when I finished this book. It is possibly the most evocative account of the First World War that I have ever read. And the incredible thing about it is that it was written by a German, who had experienced the war from 'the other side' and who had suffered just as much.The result is a really balanced view of the war. Everyone felt the same. They were all scared boys who were afraid to die and who didn't fully understand what they were doing there. The book follows the trajectory of Paul, the main character, who turns from a young man into an old man as his comrades and hopes fall around him. There are some scenes in the book which warrant being read a second and a third time, they are just so beautiful. It is a book to be remembered and a book to be re-read again.
Review by pokarekareana
16/06/2015
I loved this book. It is a German soldier's account of trench warfare in the First World War, and Remarque brought it alive in an astonishing, poignant way. One of the most powerful elements was the strong relationships developed between the characters, made all the more so by a constant barrage of bullets and bombs falling around their ears.It's not all about the war, though. Baumer, the protagonist, goes home on leave to the town where he and his brothers-in-arms (and previously his classmates) were raised, and it's here where Remarque's capacity for being true to his subject becomes clear; we hear a lot these days about how difficult it is for soldiers returning from Iraq or Afghanistan to return home and 'get back to normal', and Remarque makes it clear that this isn't unique to our era. It was just the same for our enemies almost a century ago.A must-read.
Review by RajivC
16/06/2015
This is one of the most brilliant books that I have read in recent times. The blurb on the cover says that this is the greatest war novel ever, and I am inclined to agree. Erich Maria Remarque really got into the head of the narrator of the story, and got into my head. The book is deceptively simple to read. It is one of the books that I simply could not put down. Erich tells the story of a young boy in World War I, and poses questions, comments, thoughts about war, in a manner that is not bombastic, but simply the thoughts of a young soldier on the war front. The boy changes during the course of the war, his ideals change, yet he yearns for the simple joys of life, the simple love of his family. Indeed, who remembers those who fought? Most modern English fiction has painted the Germans has blood thirsty cruel army folk, and this book does great service to the German soldiers on the war front. Like the Allies, they were simple folk, with simple, yet sometimes profound thoughts and dreams. Read this book.