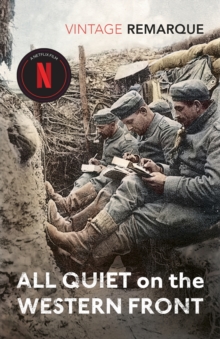 All Quiet on the Western Front
Paperback
Description
One by one the boys begin to fall... In 1914 a room full of German schoolboys, fresh-faced and idealistic, are goaded by their schoolmaster to troop off to the 'glorious war'.
With the fire and patriotism of youth they sign up. What follows is the moving story of a young 'unknown soldier' experiencing the horror and disillusionment of life in the trenches.
Information
Format: Paperback
Pages: 224 pages
Publisher: Vintage Publishing
Publication Date: 01/12/1995
Category: First World War fiction
ISBN: 9780099532811
Other Formats
Paperback from £4.39
Hardback from £10.00
CD-Audio from £9.95
EPUB from £4.58
eAudiobook MP3 from £3.75
Free Home Delivery
on all orders
Pick up orders
from local bookshops
Reviews
Showing 1 - 5 of 13 reviews.
Previous | Next
Review by meegeekai
16/06/2015
Classic, another must read or re-read if you were force fed this in high school or college.
Review by dylanwolf
16/06/2015
All Quiet on the Western Front is a searing account of the trauma of war. I should think it is impossible to read without the shedding of tears. It is the story of a young German soldier in the First World War. All politicians and diplomats need to have read this book so that they never scrimp in their efforts to attain peaceful solutions to the discords between nations. War still continues to be a fearful and too common occurrence around the globe and those that barter it too powerless to disallow it. This is a thunderous book and a very moving and uncomfortable read.
Review by Cait86
16/06/2015
I am not sure whether my humble writing skills can accurately reflect this masterpiece of a book. All Quiet on the Western Front is hideous, but hideous in a positive way. Books about war should not be sweet and cheery, but should realistically portray the horrors that man inflicts upon himself. Remarque spares the reader nothing - he hits us in the face with the gritty details of life in the trenches, waits for us to recover, and then hits us again. Never have I seen such honesty in a book.You know when you watch an action movie, and all through the fight scenes or the chase scenes, your heart races? That is the reaction my body had while I was reading All Quiet on the Western Front. That's right: this book had the ability to evoke a physical reaction from me. This is a rarity for me - I generally do not cry while reading, nor do I laugh out loud. Reading tends to be an intellectual experience, not a physical one. Remarque's writing is just so honest, so blatant, that I could feel my heart pounding, my forehead breaking out in a sweat, and my stomach churning.So, if this book had the power to cause my body to react in a negative way, then why should we read it? The answer - because war is around us every day, it forms huge parts of our past, it exists in our present, and that pattern can only lead us to believe that it will occur in our future. We should not hide from the destruction it brings; instead, we should learn from writers like Remarque, who had first-hand experience in World War I, and who strives to share it with others.All Quiet on the Western Front is written from a German perspective, and one of its greatest lessons is that every soldier, whether German, French, Russian, Canadian, British, or American, is the same. No civilian ever really wants a war, and yet it is the civilian who fights. When the narrator, Paul, kills a French soldier, he has the ultimate realization:"Why don't they keep on reminding us that you are all miserable wretches just like us, that your mothers worry themselves just as much as ours and that we're all just as scared of death, and that we die the same way and feel the same pain" (153).All world leaders should read this book; in fact, all people should read this book. It is a vivid portrayal of the things we do to each other - and the regret that we feel.
Review by clfisha
16/06/2015
Stunning, horrendous, deeply evocative anti-war novel set in WW1. What else can I say? This book just took my breath away, made my heart beat faster and left my mouth open.
Review by RichardHCDay
16/06/2015
A very powerful book that had me riveted from start to finish. The quality of the writing seamlessley transports you into the trenches and makes you see things from the other side of the fence and brings home to the reader the futility of war.In my opinion this is the finest piece of war literature ever written.