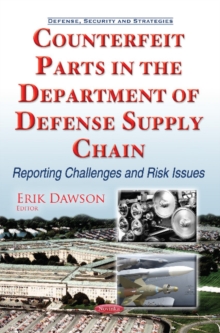 Counterfeit Parts in the Department of Defense Supply Chain : Reporting Challenges & Risk Issues
Paperback / softback
Description
The Department of Defense (DOD) supply chain is vulnerable to the risk of counterfeit parts, which have the potential to delay missions and ultimately endanger service members.
To effectively identify and mitigate this risk, DOD began requiring its agencies in 2013 and its contractors in 2014, to report data on suspect counterfeit parts.
This book examines, among other things, the use of the Government-Industry Data Exchange Program (GIDEP) to report counterfeits; GIDEPs effectiveness as an early warning system; and DODs assessment of defense contractors systems for detecting and avoiding counterfeits.
Information
Format: Paperback / softback
Pages: 84 pages
Publisher: Nova Science Publishers Inc
Publication Date: 01/12/2016
Category: Public administration
ISBN: 9781634859899