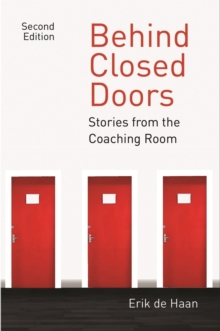 Behind Closed Doors: Stories from the Coaching Room 2016
Paperback / softback
Description
BehindClosed Doors is a ground-breaking exploration of executivecoaching, based on a wide range of real-life case studies of coaching inaction.
Despite the significant growth of executive coaching over the last 20years, very few case studies are available which can be used to guidepractising coaches - and those who retain their services - and which reveal thereality of coaching in action.
Yet when the curtain is pulled back, we canlearn much about the impact of different interventions and different styles;where change happens for the better and where potential pitfalls may occur. Written by skilled and experienced practitioners, and showing what happens'inside' coaching relationships, this book provides just such guidance. BehindClosed Doors provides a unique view into a coach's highlypersonal practice, and offers transformational insights into the coach'sreflections and experiences, into the evolving relationships between coach andcoachee, and into the effects and outcomes for clients.
The book showsexecutive coaches how they can dramatically increase the value they bring toorganisations and individuals alike by creating better, deeper clientrelationships.
It shows how practising executive coaches can be more effectivein building the relationship with their clients, in reviewing this relationshipand in achieving more meaningful and significant coaching outcomes. BehindClosed Doors builds on the thought leadership of theAshridge Centre for Coaching and is essential reading for practisingexperienced coaches (internal and external), purchasers of coaching and HRprofessionals generally, and participants on Masters and Doctoral programmes inCoaching.
Information
Format: Paperback / softback
Pages: 240 pages
Publisher: Libri Publishing
Publication Date: 30/06/2016
Category: Business strategy
ISBN: 9781909818767
Free Home Delivery
on all orders
Pick up orders
from local bookshops